Invisalign – Carlisle, PA
Achieve a Straighter Smile with Invisible Braces
Do you want straighter teeth, but hate the idea of wearing bulky and uncomfortable metal braces? Then Invisalign in Carlisle may be the perfect solution for you! With over five million satisfied customers, this revolutionary orthodontic treatment is both popular and successful. Invisalign clear aligners are designed to blend into your lifestyle while you wear them, making them one of the most convenient and easy to use options available. To see if Invisalign is right for you, scroll down to try out our Invisalign Smile Simulator or give us a call today to schedule your consultation!
How Invisalign Works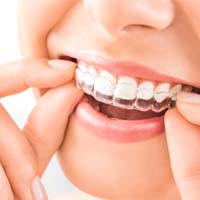 Your first step on your journey towards a new smile is to come see us for a consultation. Once we've determined that you're a good candidate for Invisalign, we'll capture impressions of your teeth. These impressions are then sent to the Invisalign lab, where they'll be used to create a series of precisely customized aligners. When we receive your aligners, you'll return to our office to pick up your first several sets.
Each set of aligners represents a different stage of your smile as it slowly shifts towards aesthetic harmony. Patients wear each one for a couple of weeks before moving on to the next one. Additionally, regular check-ups at Flenniken Family Dentistry are required so that our doctors ensure your treatment is staying on track.
Indications for Invisalign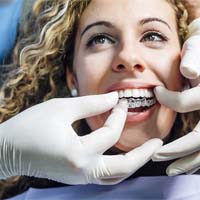 While severe orthodontic issues are still best treated with traditional metal braces, Invisalign can be used to address a wide array of problems you may be facing, like:
Crowded Teeth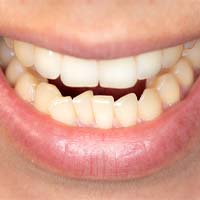 Teeth that are too close together can be damaged easily and create small spaces that trap bacteria, which increases your risk of cavities and gum disease. Invisalign aligners can carefully shift your teeth away from each other, giving you an even smile.
Gaps Between Teeth
Not only do gaps between teeth distract from your appearance, but they put your teeth at a higher risk of sensitivity, chipping, and breaking. Thankfully, we can bring your teeth closer together and eliminate these spaces to help you achieve a healthier, stronger smile.
Bite Alignment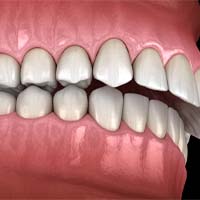 Bite problems like overbite, underbite, crossbite, and open bite put extra strain on the jaw joints, which can lead to soreness, stiffness, and potentially even more serious problems like bruxism and TMJ dysfunction. With a personalized Invisalign treatment, we can design a plan to address these issues so you can have a healthier bite and a better smile.
The Benefits of Invisalign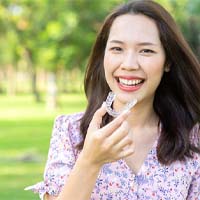 With Invisalign, patients enjoy several amazing benefits that aren't available with traditional metal braces, including:
Metal braces cause irritation and injury to patients' gums, lips, cheeks, and tongue because of the protruding wires and brackets. Thankfully, this isn't a possibility with the smooth, customized plastic of Invisalign aligners.
Invisalign aligners are removable, which means that no foods are off-limits during treatment. Patients can brush and floss like normal, and if you'd like to look your best for a big event, it's fine to remove the aligners for an hour or so while you enjoy yourself to the fullest. Just remember to replace them afterwards.
Invisalign patients don't have to attend as many check-ins as patients undergoing traditional orthodontic care.
In most cases, Invisalign treatment can be completed in just 8-18 months.
How Much Does Invisalign Cost?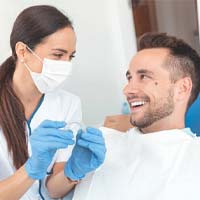 There isn't a set cost of Invisalign in Carlisle because every treatment is tailored to meet the specific needs and goals of a patient. The price of your treatment will depend on a variety of factors, including your oral health, issue severity, and compliance during treatment. Typically, patients can expect Invisalign treatment to be more expensive than metal braces. However, it's also important to know that most insurance companies that offer coverage for traditional braces also cover Invisalign. During your consultation, we'll be happy to review your payment options and how to make your new smile as affordable as possible.
Invisalign FAQs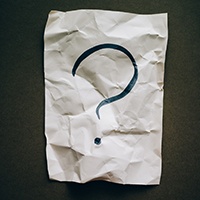 If you're looking for an alternative to brackets and wires, Invisalign in Carlisle may be the solution for you; however, it's normal to have some concerns. We'll explain everything during your consultation for Invisalign to feel confident about the road ahead. In the meantime, here are the answers to a few frequently asked questions.
What does Invisalign look like?
Invisalign doesn't use any brackets or wires to move your teeth. Instead, clear aligners are worn over them. Although you can see the aligners while you're holding them in your hand, they are very difficult to detect when they are in your mouth. Your aligners can stay discreet by caring for them properly each day and removing them when eating or drinking anything except water. Some patients require attachments, buttons, or elastics during the alignment process. Although they aren't transparent, they are less noticeable than metal braces.
How long does Invisalign take?
No two treatment plans are the same, so there's not a set timeline for Invisalign. After examining your mouth and creating your treatment plan, your cosmetic dentist in Carlisle will explain how long you can expect to wear aligners. Generally, it takes 12 to 18 months; however, several factors influence the duration of your treatment, like the complexity of your case. If you need to make major tooth movements or are treating both arches, you can expect to need more aligners. As a result, your treatment will take longer than a person who is only making minor adjustments. Patient compliance is crucial to avoid any delays while on your journey to a straight smile. It's important to wear your aligners for at least 22 per day and change to the next one in the series on time. Don't forget to maintain your regular appointments to allow your cosmetic dentist to monitor the progression of your treatment.
How are the aligners made?
Our office uses a digital impression system to ensure predictable results when choosing Invisalign. We'll take digital impressions of your mouth, which work along with state-of-the-art software that allows your dentist to map the movement of your teeth. You'll see each phase of your treatment and expected results to ensure you're making the best decision for your smile. After the specifics are set, your aligners are created using a 3D printing process. It can take a few weeks for the manufacturing process to be completed. We'll notify you when your aligners are ready to be picked up.
How do I clean my Invisalign?
Besides brushing and flossing, you also need to clean your aligners using a soft-bristled toothbrush and clear antibacterial soap. You don't want to use any abrasive products, including toothpaste, because they can scratch your aligners and tarnish their transparency. Don't use hot water because it can warp them. Invisalign also sells a cleaning solution that makes it easy to remove plaque and bacteria from hard-to-reach areas. Don't forget to brush your teeth and floss before putting your aligners back in your mouth.
Invisalign Smile Simulator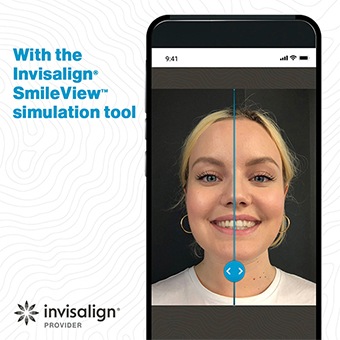 More Cosmetic Treatments