Root Canal Therapy for Carlisle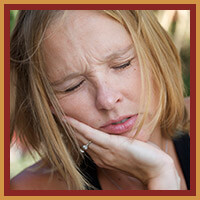 Extreme dental discomfort could mean a tooth is growing dangerously close to requiring an extraction – but that doesn't have to be the only choice available. In many cases, root canal therapy restores much-needed health and vitality to a damaged tooth, allowing patients to safely maintain it and avoid the need for a replacement. If you're ready to schedule an appointment, contact Flenniken Family Dentistry in Carlisle today! Dr. Neil Flenniken, Dr. Suzan Rismani-Flenniken, Dr. Stephen Capiotis, Dr. Joseph Olivetti, and Dr. Marvin Berger are all here to help.
Do I need root canal therapy?
Common signs include:
A lingering taste in the mouth that's unpleasant
Swollen and/or overly tender gums located near a certain tooth
Painful oral sensitivity in response to changes in temperature
Dental pain that occurs when the patient is chewing or placing pressure on a certain tooth
However, it's important for patients to remember symptoms may be too subtle for an untrained eye to notice until their case has reached more advanced stages. That's why we strongly recommend patients attend routine appointments at our Carlisle area practice.
The Treatment Process
After we've performed a thorough oral evaluation, our dedicated team of doctors and staff members have a complete understanding of whether or not root canal therapy is the right choice. The procedure involves us carefully opening the tooth so to reach its inner chamber and clear away the infected pulp. After we've filled the area with a safe, biocompatible substance and sealed it shut, a custom-made crown is typically created to fit on top and replicate lost structure.
While many patients may cringe at hearing the words "root canal," the truth is that it's a very safe and successful procedure. In fact, treated teeth that are cared for with proper hygiene and professional check-ups have a good chance of lasting for the rest of the patient's life. If you're in need of assistance, don't hesitate to contact us! We welcome patients from all over the Carlisle area, as well as Newville, Mt. Holly Springs, Harrisburg, and beyond.
More to Explore
Laser Dentistry Sedation Dentistry Restorative Dentistry