Wisdom Tooth Extractions for Carlisle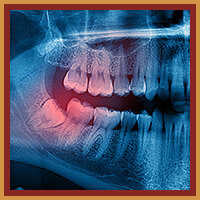 Many patients assume that their permanent smile becomes complete in childhood, but this actually isn't true. Your third molars (more commonly known as wisdom teeth) don't emerge until the teenage or early adult years, often bringing with them plenty of concerning problems. At Flenniken Family Dentistry, our team wants to protect your overall oral health and happiness, which may include our recommendation that your wisdom teeth are removed. If you'd like to schedule a consultation for you or a loved one, contact our Carlisle, PA office today. Dr. Neil Flenniken, Dr. Suzan Rismani-Flenniken, Dr. Stephen Capiotis, Dr. Joseph Olivetti, and Dr. Marvin Berger are all committed to providing quality dentistry in a friendly and comfortable environment.
Why do my wisdom teeth need to be removed?
It's possible for wisdom teeth to thrive in a person's smile, but this can only occur when they emerge properly and are well-positioned. Sadly, this is a rare occurrence. In most cases, wisdom teeth will not have enough space to erupt fully leaving them partially or fully impacted. They may also erupt at an angle or cause abscesses. If these problems are not dealt with quickly, destructive consequences for the patient's oral health and overall wellbeing may follow.
The Extraction Procedure
Our doctors have the experience and skill necessary to carry out wisdom tooth extractions, and we'll do everything in our power to make the experience as smooth as possible. IV sedation and other sedation options are available as well to increase patient comfort, if needed
Once wisdom teeth have been removed from the mouth, some bleeding, swelling, and general discomfort is common. We'll provide you with gauze to bite down on to reduce the former as much as possible. If a few days have passed and these symptoms haven't lessened at all in severity (or if the patient is feverish), please contact us right away for assistance.
Tooth Extractions FAQs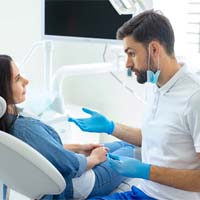 Even though extracting a tooth is sometimes the best option for your oral health, we'll never recommend it unless it's absolutely necessary. After all, there's no adequate substitution for your natural pearly whites. However, in cases where we've exhausted all other options, we'll recommend it to help you preserve a healthy smile. We understand the procedure may seem daunting, which is why we've decided to answer some common questions we receive from patients. If you don't see your specific question, feel free to contact our team at Flenniken Family Dentistry for an answer!
Does Getting a Tooth Extracted Hurt?
When it comes to any type of dental procedure, many patients are hesitant to commit to treatment because they're worried it will hurt. But rest assured – our team will make sure you're completely comfortable during your procedure. Whether you're getting one tooth pulled or multiple, we'll numb your mouth beforehand to ensure you don't feel any pain. For the first few days following your extraction, you can expect to feel mild soreness and discomfort. Luckily, you can manage these symptoms with pain medication and cold compresses. Diligently following your aftercare instructions will also help prevent infection, reduce puffiness, and promote faster healing. If your pain worsens or you begin to show signs of an infection, contact your dental team right away for assistance.
What's the Difference Between Tooth Extractions and Wisdom Tooth Surgery?
Although the two procedures might sound interchangeable, they're entirely different from each other. One of the most notable differences between them is that wisdom tooth surgery is solely designed to remove the third and final set of molars. Tooth extractions can remove any tooth that's negatively affecting oral health. Additionally, wisdom tooth extractions are often a surgical procedure, meaning a tooth can be removed that's impacted or below the gumline.
How Should I Prepare for My Tooth Extraction?
Being well-prepared for your tooth extraction is just as important as diligently following all of the aftercare instructions. If you have any questions or concerns about the procedure, make sure your dentist addresses them beforehand so you know what to expect. They'll provide you with instructions on what to bring, what to eat the morning of, and when you should pick up your prescription medication. Since you'll likely receive local or general anesthesia, you should arrange for someone to drive you home after your procedure.
What's the Recovery for Tooth Extractions Like?
After a tooth extraction procedure, you must diligently follow the aftercare instructions you're given. You'll need to take one to two days off of work to allow your body time to rest and heal.
For a smooth and speedy recovery, here are some tips to keep in mind:
Avoid drinking from a straw
Stick to a soft-food diet
Do not partake in strenuous exercise
Keep your mouth as clean as possible (brush, floss, and rinse with warm salt water)
Avoid smoking or using tobacco products
Use a cold compress
Take prescribed medication as directed
More Restorative Treatments
Crowns & Bridges Root Canal Therapy Dentures & Partials