Wisdom Tooth Extractions for Carlisle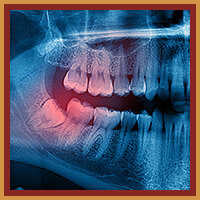 Many patients assume that their permanent smile becomes complete in childhood, but this actually isn't true. Your third molars (more commonly known as wisdom teeth) don't emerge until the teenage or early adult years, often bringing with them plenty of concerning problems. At Flenniken Family Dentistry, our team wants to protect your overall oral health and happiness, which may include our recommendation that your wisdom teeth are removed. If you'd like to schedule a consultation for you or a loved one, contact our Carlisle, PA office today. Dr. Neil Flenniken, Dr. Suzan Rismani-Flenniken, Dr. Stephen Capiotis, Dr. Joseph Olivetti, and Dr. Marvin Berger are all committed to providing quality dentistry in a friendly and comfortable environment.
Why do my wisdom teeth need to be removed?
It's possible for wisdom teeth to thrive in a person's smile, but this can only occur when they emerge properly and are well-positioned. Sadly, this is a rare occurrence. In most cases, wisdom teeth will not have enough space to erupt fully leaving them partially or fully impacted. They may also erupt at an angle or cause abscesses. If these problems are not dealt with quickly, destructive consequences for the patient's oral health and overall wellbeing may follow.
The Extraction Procedure
Our doctors have the experience and skill necessary to carry out wisdom tooth extractions, and we'll do everything in our power to make the experience as smooth as possible. IV sedation and other sedation options are available as well to increase patient comfort, if needed
Once wisdom teeth have been removed from the mouth, some bleeding, swelling, and general discomfort is common. We'll provide you with gauze to bite down on to reduce the former as much as possible. If a few days have passed and these symptoms haven't lessened at all in severity (or if the patient is feverish), please contact us right away for assistance.
More Restorative Treatments
Crowns & Bridges Root Canal Therapy Dentures & Partials