Hi-Tech, Pain-Free Laser Dentistry for Carlisle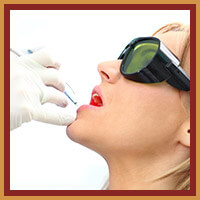 One of the main reasons patients experience anxiety at the dental office is the use of unpleasant tools like drills and scalpels. Thankfully, our team of accomplished doctors and dedicated staff members are happy to offer an alternative – revolutionary soft-tissue lasers. This tool relies on energy beams to treat areas of disease and decay, giving patients a more enjoyable and successful treatment experience overall. As a certified laser dentist, Dr. Neil Flenniken looks forward to welcoming you and your loved ones to our Carlisle, PA practice. We also serve patients from all over the Carlisle area, as well as Harrisburg, Camp Hill, and beyond.
Soft Tissue Laser
Soft tissue lasers offer patients an exceptional amount of precision and comfort – in fact, most people don't even require stitches after treatment is complete. Our team relies on them in a number of cases, including periodontal disease treatment, cosmetic recontouring of the gums, and caring for ulcers located within the mouth.
More to Explore
Preventive Dentistry Sedation Dentistry Restorative Dentistry