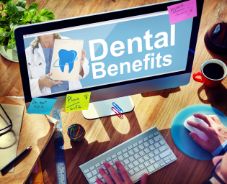 If you have dental insurance, here's a statistic from The American Dental Association that may interest you: The average insurance benefit each year is $1,250 per person, but most people only use around $323. That means an average loss of over $900 every year! Fortunately, there are some easy ways to avoid this situation and maximize your insurance benefits. First and foremost, be sure to schedule with a dentist now, a few months before the year ends. To get more tips and find out what dental insurance usually covers, keep reading below. With this information, you'll be able to achieve great oral health as affordably as possible.
What Does Dental Insurance Cover?
Before reviewing dental insurance benefits, it's important to understand that there are countless different plans, each with their own guidelines. That's why the first step is spending some time looking over your individual benefits.
With that said, here's a list of common dental procedures and a ballpark figure of how many plans cover them:
Checkups, Cleanings, and X-Rays – These services are preventative, so they're typically covered at 100%, although some plans cover them at 80%. Two annual checkups and cleanings are usually included. However, patients who are pregnant or have gum disease, diabetes or cancer may qualify for more frequent cleanings. Also, find out if your plan covers professional fluoride treatments, which are excellent for cavity prevention.
Deep Cleanings – These cleanings treat patients with gum disease and are usually covered at 60%-80%.
Fillings and Root Canals – Fillings and root canals are typically covered at 50%-80%.
Crowns and Bridges – Many plans will cover a dental crown or bridge at 50% – 70%.
Tips To Maximize Your Dental Insurance
First, double check when your plan begins and ends. Most start January 1st and end December 31st, but some are on a fiscal year. Assuming that your plan ends in December, your next step is to schedule a checkup (or any outstanding treatment that's been recommended) at your earliest convenience. Otherwise, with just a few months left before the end of the year, your benefits could be lost before you know it.
In addition, by getting a checkup now you'll know if you need additional treatment of some kind and will have plenty of time to schedule it. Your dentist can also help you plan the timing of certain procedures to help you get the most from your insurance benefits.
On a final note, keep in mind that most people have an annual maximum of $1,000-$3,000 (this is the amount that your insurance company will pay for your dental work each year). Since you'll lose this money if you don't use it by the end of the year, schedule your dental visits sooner rather than later!
About the Author
Dr. Neil Flenniken is a family dentist with decades of experience and also a Fellow of the Academy of General Dentistry. He and his team always encourage their patients to schedule early in the year to make their dental care as affordable as possible. If you have any questions about dental insurance, you can reach Dr. Flenniken via his website.