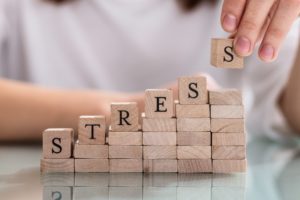 Because of the coronavirus pandemic, more people than ever before are stuck at home. In addition, people are extremely stressed about the situation. As a result, many of them find themselves engaging in bad habits that can seriously harm their teeth. Here are some bad oral health practices to stay away from during quarantine, and a few healthier alternatives to replace them.
Smoking
Many people start smoking as a way to take the edge off of this whole stressful pandemic situation, but it simply isn't worth it. Not only does smoking seriously stain your teeth, but it more than doubles your risk of developing gum disease, tooth loss, and cancer of the mouth, throat, and lungs. You're much better off quitting. If you need help kicking the habit, your doctor or dentist should have plenty of resources for you.
Biting Your Nails
Nail-biting is an awfully hard habit to quit, especially during these unprecedented times. However, it's incredibly unhealthy for your teeth. The force of nail-biting can cause your enamel to chip or break, which can be painful and expensive to treat. Wear a clear nail polish to stave off the desire to engage I this harmful habit. Another solution is to wear a rubber band around your wrist and snap it any time you're tempted to bite your nails.
Constantly Snacking
Since you're stuck inside all day, it can be tempting to spend your free time binge-watching shows you never got around to seeing before. While there's nothing inherently bad about that, there is something wrong with what we often do while binge-watching: constant snacking. Every time you eat something sugary or starchy, bacteria in your mouth feast on those food particles and leave behind an acidic waste product that causes cavities. Constantly snacking gives those bacteria ample fuel to cause tooth decay. It's much better for your oral health to stick to three square meals a day with only a snack or two in between.
Healthier Ways to Manage Your Stress
Instead of partaking in the harmful habits described above, here are some more beneficial ways to deal with quarantine anxiety:
Exercising. Even if you don't have exercise equipment at home, you can still reap the benefits by going on a walk outside for at least half an hour a day. Just make sure to stay at least six feet away from other people.
Meditating. Practicing meditation can help increase your mindfulness, which in turn can decrease your desire to engage in unhealthy habits.
Keeping a journal. Transferring your worries from your brain to the page can do wonders for your mental health. It will be like you're literally removing your stresses from your mind.
While this whole COVID-19 situation can be incredibly stressful, there are ways to deal with it besides engaging in destructive oral health habits. For more ideas on ways to better manage your mental health in these times, ask your doctor or dentist.
About the Author
Dr. Neil Flenniken obtained his Doctor of Dental Surgery degree at Howard University in Washington D.C. He is a Fellow of the Academy of General Dentistry and an Associate Fellow of the American Academy of Implant Dentistry, and has more than 17 years of experience in cosmetic and implant dentistry. In addition, he believes in the power of preventive care, like avoiding unhealthy stress-induced habits, in keeping your smile in good condition. To learn more about how you can avoid habits like the ones listed above, visit Dr. Flenniken's website.