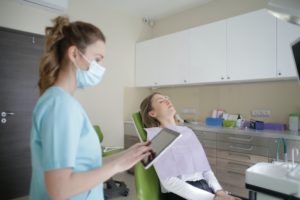 Over the last several weeks, the country has been focusing on social distancing to slow the spread of the coronavirus. As a result, many dental offices have shut their doors, except for providing emergency services. As the country begins to reopen, we know safety is a concern. Although dental offices are already some of the cleanest places, we're raising the bar for safety and cleanliness when visiting your dentist. Here are 3 ways we're combating the spread of COVID-19 as we reopen our doors.
1. Promoting Personal Hygiene
We all know handwashing and hand sanitizer are effective for reducing the transmission of the virus; however, our team is doing more. Besides wearing gloves and masks, our dental staff is taking extra precautions with their personal hygiene.
You might notice they are wearing long hair pulled back and their fingernails kept short. They are also removing jewelry and watches. Depending on the patient and treatment, they might even wear a face shield for an extra barrier of prevention.
If any of our staff aren't feeling their best, they will not be in our office, whether they have COVID-19 symptoms or not. Your safety is our utmost priority while providing you with the care you need to maintain a healthy smile.
2. Taking Extra Time to Clean
We're taking more time out of our day to thoroughly clean and sanitize our office. This means we won't be booking as many appointments per day; however, it allows us to disinfect and clean our equipment, tools, and office between each appointment throughout the day. We are also deep cleaning our office each night to ensure we have a sterile environment for our patients the next day. Rest assured, we're following the CDC's recommendations for keeping our practice clean to ensure any potential viruses aren't lingering in our office.
3. Encouraging Social Distancing
Social distancing is invaluable for stopping the spread of COVID-19. We are encouraging social distancing in our office to keep you and our staff safe. As a result, we're limiting the number of people in our office; however, if you need block scheduling, we can still accommodate your family. With fewer people in the office at one time, you're able to keep your distance to stay healthy. Fewer appointments throughout the day also gives our staff more time to clean the office between each patient.
Welcome Back to a Clean Office
As coronavirus restrictions are lifted, we are looking forward to having our patients back in our office. If you have any concerns about our safety protocols or have any questions, a member of our team is more than happy to help.
About Flenniken Family Dentistry
Flenniken Family Dentistry strives to provide modern dental care from our patient-centered office. Your safety is always a top concern as we deliver the care you need to reach optimal oral health. We've implemented several new strategies to reduce our patients' exposure to bacteria and viruses. You'll notice a higher standard of dental safety when visiting our office.