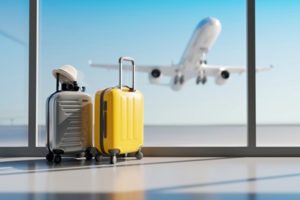 Vacations are meant to let you leave your stress behind and regain your peace. But keeping your orthodontic treatment on track doesn't have to be stressful. There are many simple things you can do to keep your smile moving in the right direction when traveling with Invisalign. Here are 4 best practices for you to keep in mind.
Schedule a Dental Visit
Before you head out on your new adventure, it's a good idea to schedule a visit with your dentist. Doing this will allow your dentist to make any modifications in your treatment if needed. They can also give you ideas on what to do if you run into any problems. If you don't have time to get into the office, you may consider making a quick phone call for tips or tricks while you're gone.
Maintain Your Dental Care Routine
You may be on vacation, but maintaining your regular dental care routine is important to your long-term oral health. A great way to make it easier is to find a toiletry bag that you love and pack it with your Invisalign case, mouthwash, a toothbrush, dental floss, your aligner cleaning products. Keeping it in your carry-on bag, backpack or purse will make it easier to care for both your teeth and aligners.
Keep a Bottle of Fresh Water with You
If you eat or drink something and had to take your aligners out, your first instinct is to brush your teeth and rinse your aligners. But if you're able to clean your teeth, you can at least swish a bit of fresh water around in your mouth to help remove any leftover food particles before reinserting your aligner trays. You might also consider keeping a small bottle of hand sanitizer nearby so you can clean your hands before putting your fingers into your mouth.
Pack Extra Aligners
You should be wearing your aligners for 20 to 22 hours every day and moving to the next set every 1 to 2 weeks, depending on the directions from your dentist. The last thing you want is to have a setback in your treatment because you didn't have your next set of trays. Whether you're going on a weekend getaway or taking a proper vacation, your best bet is to pack your next set or two of aligners.
Traveling with Invisalign doesn't have to put a damper on your vacation. Simply making sure you are prepared will allow you to focus on what's truly important: rest and relaxation.
About the Practice
The team of dentists at Flenniken Family Dentistry is committed to helping patients throughout the Carlisle, PA area to achieve the healthy, beautiful smiles they deserve. Dr. Neil Flenniken, Dr. Suzan Rismani-Flenniken and their team of dentists offer a wide range of dental treatments that include everything from preventive dentistry to Invisalign and sleep apnea treatment. If you're planning a trip and have a few questions about your treatment while you're gone, contact the office at (717) 249-7777 or visit the website to schedule an appointment.