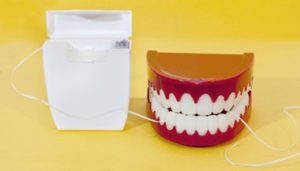 Taking time to floss every day is a key part of a proper oral hygiene routine. If it's already included in your regular dental care practices, that's great news! However, you may not be flossing correctly. Studies show that out of the 36 percent of the population that floss regularly, about 20 percent are making key mistakes that leave them vulnerable to tooth decay. Keep reading to see what you might be doing wrong and how to correct it.
You Don't Brush and Floss in the Correct Order
Typically, when you think of dental hygiene, brushing is always mentioned before flossing. This often gives the impression that one's routine should be carried out in this order, but it is the exact opposite. The fluoride in your toothpaste is what helps protect your teeth from bacteria and plaque. Flossing after you brush removes this protection from the crevices and surfaces of your teeth, allowing the acids from food the opportunity to begin eating away at your enamel. 
You Forget Your Gum Line
When you floss, it is common to focus on threading the string between your teeth. But plaque forms on the surface of the teeth as well as below the gum line. Reaching about 2 to 3 millimeters below the gum line will minimize the number of bacteria on your teeth and reduce your risk of tooth decay and gum disease.
You're Not Flossing Often Enough
According to the American Dental Association, you should floss at least once every day. But many dentists recommend flossing at least twice each day to minimize your risk of gum disease. As you eat throughout the day, food particles and plaque pile onto your teeth, below your gum line and in the crevices between your teeth. Flossing thoroughly and often is a great way to help your teeth stay healthy and clear of plaque.
You Don't Floss at the Right Times
Your saliva carries an enzyme called lysozyme that fights bacteria and produces antibodies that prevent microbes from settling into the oral cavity. While you sleep, your mouth reduces the amount of saliva it produces and gives plaque and bacteria the perfect environment to begin wearing away at your enamel or irritating your gums, causing them to swell. Flossing before you go to bed helps minimize your risk of developing cavities. Starting your day by flossing when you wake up gets rid of the bacteria that multiplied on your teeth while you slept.
Flossing won't do much to prevent tooth decay and gum disease if it's not done properly. If traditional minty floss has become dull and monotonous, you may want to consider trying different flavors like bacon, strawberry or cupcake. You can even get coconut oil-infused dental floss! Another way to liven up your flossing session is to use a water flosser, but be sure to start with your device on the lowest setting until you get more comfortable with it. Follow flossing with two minutes of brushing with a fluoride toothpaste and rinse with a fluoride mouthwash to keep your mouth fresh and healthy.
About the Practice
The dentists at Flenniken Family Dentistry are committed to helping every patient achieve the bright, beautiful smile they deserve. Drs. Neil Flenniken and Suzan Rismani-Flenniken and their team of dentists offer patient-focused treatments that include general cleanings and exams, cosmetic dentistry and more. If it's time for your first dental cleaning of the year, contact the office at (717) 249-7777 or visit the website to schedule your appointment today.