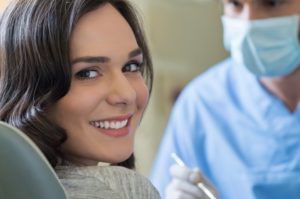 You're going in for your six-month dental cleaning and checkup. Your hygienist asks if you have any questions or concerns for them. What do you say? What kinds of questions should you be asking to get the most out of your appointment? Here is some helpful advice from your dentist about questions you could ask your hygienist at your next dental visit.
What can I do to improve my oral health?
We all know that we need to brush our teeth twice a day, but there is so much more that you can do to promote your oral health. Your hygienist can provide other valuable advice that can make a huge difference if you follow through with it. For example, if you don't already, you should floss at least once a day for proper oral hygiene. In addition to flossing, your hygienist might encourage you to implement the following habits into your life:
Visiting the dentist twice a year for cleanings and checkups.
Using an anticavity fluoride mouthwash once a day.
Reducing your sugar consumption.
Drinking more water.
Do I have bumps, sores, or bleeding in my mouth?
These signs could indicate that a more serious condition. Bleeding in the gums is one of the first symptoms of gingivitis, the first stage of gum disease. Bumps or sores can mean that you have an infection, oral cancer, or another issue. Your hygienist or dentist should conduct a full examination of your gums, teeth, mouth, tongue and throat for these and other signs to ensure you have good oral health, and it certainly doesn't hurt to ask about what they find.
Should I be worried about my dry mouth or my breath smelling bad?
If your mouth is frequently dry, you may have what is called dry mouth, a condition where the glands in the mouth do not produce enough saliva. This is a problem because saliva helps to wash away plaque and food particles. Dry mouth is often a side effect of certain medications. Your hygienist or dentist should be able to provide advice for dealing with this symptom to ensure that your teeth and gums are protected.
Anyone can have bad breath after eating certain potent foods; however, if you find that your breath consistently smells foul, bacteria could be running amok in your mouth. Talking openly with your hygienist and dentist about your bad breath so they can help you get any treatment you need.
I'm feeling sensitivity. Does it mean something is wrong?
Don't hesitate to tell your hygienist about any sensitivity you are experiencing. It could be nothing to worry about, but then again it could be a sign of tooth decay that has reached farther into the tooth. If this is indeed the case, it is much better to catch the problem early on, while you only feel sensitivity, instead of waiting until later when you experience extreme pain.
When you go in for your dental appointments, you should make a list of some questions so that you can take advantage of the hygienist's expertise and knowledge. Maintaining your oral health is worth overcoming any shyness and being open and honest with a trusted dental professional. As you and your dentist or hygienist work together, you'll find that your oral health will improve and your smile can stay happy and healthy for years to come.
About the Practice
At Flenniken Family Dentistry, patients have access to decades' worth of dental experience with all the providers. From sleep apnea treatment to oral surgery to preventive care, patients in the Carlisle area can have nearly every dental need met under one roof. To contact them for an appointment, you can call (717) 249-7777 or click here.