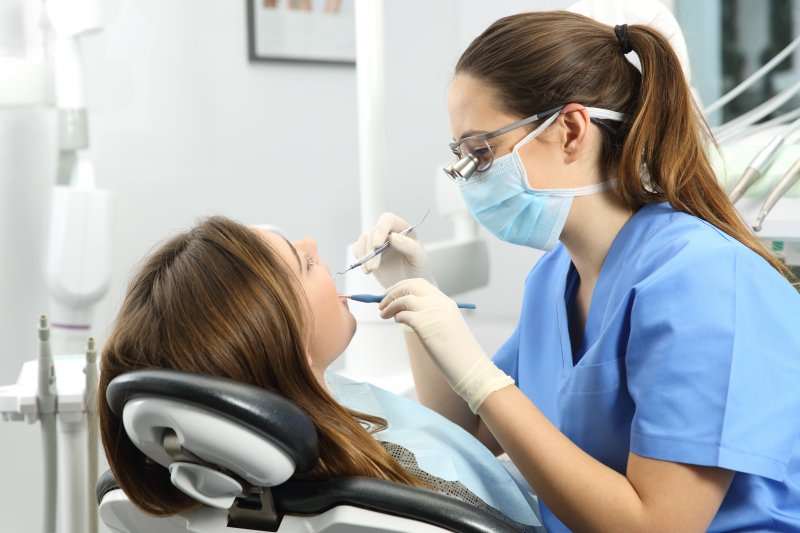 With everything that's going on in your life, it's possible that appointments at the dentist are put on the back burner. Even though this may not seem like a big deal if you aren't in any pain, it's crucial for your overall health to schedule regular visits. Continue reading to learn why having your regular cleanings and checkups are so important.
Removing Plaque and Tartar
Even if you're the best brusher and flosser in the world, you're still going to miss spots in your mouth. When plaque builds up and isn't removed right away, it can harden into tartar which is extremely difficult to remove on your own. When you visit your dentist for regular cleanings, your clinical team will remove plaque and tartar to help prevent you from experiencing tooth decay. During the checkup, you will be checked to ensure that you don't have cavities that have already formed.
Checking for Gum Disease
When you have a build up of plaque and tartar, you can also develop gum disease. Your dentist is trained to spot early signs of gingivitis to prevent it from becoming more severe and turning into periodontitis, a later, more serious stage of gum disease. If it progresses far enough, you could experience loose teeth or even teeth falling out completely. By addressing inflamed, tender, and bleeding gums early on, you can get the treatment you need to restore the health of your smile.
Being Informed
When you experience common dental problems, usually there's a reason behind it. If you have bad habits like ice chewing, nail biting, grinding your teeth, drinking soda, or smoking tobacco products, you're more likely to experience oral health problems. When you go into the office, your dentist always checks for damage caused by habits like these. When you're informed, you know what habits to combat to live a healthier lifestyle.
Routine X-Rays
Periodically, when you go to the dentist, you will get an X-ray of your mouth. This checks for problems that are invisible to see from the naked eye like impacted teeth, jawbone damage, swelling, cysts, or tumors. This way, these issues can be discovered early on and treated before they progress and become serious.
Oral Cancer Detection
Every time you go to the dentist for your checkup, you are evaluated for signs of oral cancer. This is a very serious disease, but thankfully if it is diagnosed in its early stages, it is usually easily treatable. Even if you may not notice any signs, your dentist is trained to pick up on abnormalities that could indicate cancer.
Checking Other Abnormalities
In addition to checking for signs of oral cancer, your dentist also checks your neck, jaw, and lymph nodes for swelling, lumps, and other abnormalities. These can be signs of major health issues so it's important that they are discovered early so you can be treated properly.
There's more to visiting your dentist than just having your teeth cleaned and polished. Doing so can bring all sorts of unknown issues to light and even save your life!
About the Author
Dr. Neil Flenniken is a family, cosmetic, and implant dentist serving patients in Carlisle, PA. He earned his DDS from Howard University in Washington D.C. and has gained over two decades of experience. He is also a graduate of the prestigious Las Vegas Institute for Advanced Dental Studies. Dr. Flenniken is a Fellow of the American Academy of General Dentistry. For more information or to schedule an appointment, visit his website or call (717) 249-7777.