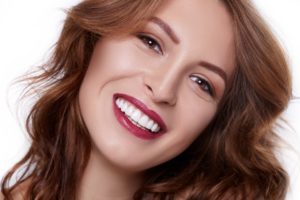 A bright, beautiful smile is attributed to youth, confidence, and success. It can be the perfect complement to any outfit to look and feel your best. However, teeth change colors over the years. If you've noticed your pearly whites aren't as vibrant as before, the clothes you wear could be making them look discolored. Believe it or not, certain colors can draw attention to your teeth by affecting how white they look. Here's how to ensure your smile shines its brightest.
Causes of Tooth Discoloration
Teeth come in many shades and tones naturally. Not to mention, they also darken with age, and several other factors affect their color, like the foods and drinks you consume, smoking, or your oral hygiene routine. Some discoloration can be caused by genetics or medications.
No matter the reason, certain colors can exaggerate discoloration. When choosing an outfit or applying your makeup, here are a few choices to keep in mind:
Colors to Wear:
Blue
Red
Cool Pink
Nude
Berries
Violet
Colors to Avoid:
Gold
Orange
Black
Grey
Brown
Make Your Smile Pop with Teeth Whitening
Besides changing your wardrobe, you can turn back the clock to reveal a whiter smile by visiting your cosmetic dentist. They'll determine the source of your discoloration to create a personalized treatment plan to take years off the appearance of your teeth.
You have more options than ever to revamp your smile, including:
In-Office Teeth Whitening: Your teeth can get up to 8 shades whiter over your lunch break. After applying a protective barrier to your lips and gums, your dentist will place the whitening agent on your teeth. It is activated using a special dental light to dissolve stubborn stains. The process is repeated for 3 15-minute intervals to drastically improve the color of your enamel.
Take-Home Teeth Whitening: You can achieve in-office results without leaving your couch. After an initial consultation, your dentist can provide you with everything you need to whiten your teeth gradually for 2 weeks. You'll use the kit at home, which will contain a professional-grade whitening agent to treat age-related and surface stains.
Your dazzling new smile can last for many years or months, depending on how well you care for it, like brushing and flossing. It's best to avoid anything that can cause new stains, like smoking or drinking a lot of coffee.
You won't have to think twice about the clothes you wear or how you're going to do your makeup by investing in professional teeth whitening. You'll boost your confidence and add the perfect flare to your image by revealing a whiter smile.
About Dr. Neil Flenniken
Dr. Flenniken achieved his dental degree at Howard University in Washington D.C. and has completed additional education in many specialties, like restorative dentistry, dental sedation, and implant dentistry. He has the qualifications and a reputation you can trust to enhance your smile. Contact our office through our website or call (717) 836-1259 to request a consultation.