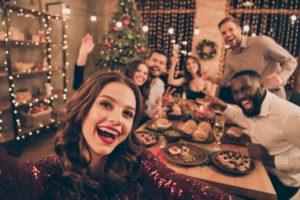 With the kind of year that 2020 has been, the holiday season couldn't have come soon enough. Whether you're excited for the seasonal music, sending gifts to family members, or enjoying a (virtual) meal together, there is certainly a lot to look forward to. However, the holiday season is rife with opportunities for oral health issues to wreak havoc on your smile. Fortunately, there are precautions you can take to avoid having to spend the holidays in your dentist's office. Continue reading to learn why the holiday season is so harmful for your oral health and how to prevent damage to your smile this year.
Why Is the Holiday Season Bad for Your Teeth?
Many of the most common holiday traditions can negatively affect your smile:
Frequent snacking. There's nothing wrong with indulging in a large meal with your family, but if you find yourself grazing on snacks in the kitchen all day, then you're looking at some potential problems. Instead, have a small number of balanced meals a day to give your teeth a break from the constant onslaught of sugar.
Increased sugar intake. This time of year certainly has its fair share of hard-to-resist sweet treats. Unfortunately, consuming large amounts of sugar weakens your tooth enamel, giving bacteria ample opportunity to eat away at this protective layer of your teeth and create cavities.
Lack of routine. Whether you're traveling or hosting, it's easy to forget to brush and floss when your schedule is altered. It may help to set an alarm on your phone to clean your teeth twice a day.
How to Keep Your Smile in Good Shape During the Holiday Season
Follow these tips to prevent oral health problems this holiday season:
If you can't brush and floss after eating, at least swish some water around in your mouth to wash sugar particles off of your teeth.
Leave a significant part of your dinner plate for mouth-healthy holiday foods, like turkey, cheese, and veggies.
Limit the amount of sugary and acidic items you consume, like wine, candy canes, and other sugary treats.
Schedule a dental appointment. If it has been more than six months since your last checkup and cleaning, there's no better time than now.
This holiday season, keep your smile merry and bright by taking good care of your oral health. There's nothing like starting the new year off with a beautiful, healthy smile!
About the Practice
At Flenniken Family Dentistry, we're proud to showcase the talents of our team of five highly trained doctors. While their decades of combined experience and training can help you overcome nearly any oral health issue, they'd much rather help you stop them from developing in the first place! With regular dental checkups and excellent preventive care, we aim to spot and stop problems as early as possible to keep your smile strong and healthy all year long. To learn more, we can be reached via our website or at (717) 249-7777.