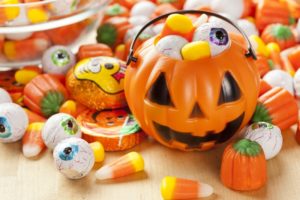 Halloween is almost here! This spooky time of year is filled with fun family activities, scary movies, tasty treats, and plenty of reasons to smile. Unfortunately, with such an abundance of sugary candies, this can also be a tough season for your teeth. However, with a few simple precautions, you can keep your smile safe from cavities while still indulging in your favorite fall sweets! Use these five tips from your Carlisle dentist to make sure you enjoy a happy, healthy Halloween.
Tip #1: Choose Your Candy Carefully
While there isn't any candy that's good for your teeth, there are some varieties that are safer than others. Do your best to avoid hard, chewy, and sour candies, since these burn through your enamel very quickly and increase your risk of cavities. Instead, safer choices include sugarless gum and soft candies.
Tip #2: Drink Plenty of Water
Not only is staying hydrated good for your overall health, but it can help prevent tooth decay. Drinking plenty of water during and after enjoying your Halloween candy washes away lingering sticky, sugary residue that would otherwise cause cavities. It also encourages saliva production, which is your body's natural recourse against tooth decay.
Tip #3: Treat Yourself to Some Chocolate
When compared to other types of candy, chocolate is a relatively safe choice for your teeth. Chocolate melts quickly and is much easier to clean away than sticky, chewy candies. Even better, dark chocolate contains less sugar than white or milk chocolate and contains some beneficial antioxidants.
Tip #4: Keep Using Fluoridated Dental Products
While it's important to use fluoridated dental products all year long, it's especially so before Halloween! Mouthwashes and toothpastes with fluoride are key to keeping your teeth strong and helping them resist cavities. Make sure you're brushing your teeth for two minutes twice a day, flossing all your teeth daily, and regularly rinsing with mouthwash.
Tip #5: Don't Forget to Schedule Your Dental Checkup
Halloween marks the start of the very busy winter months. Now is a great time to schedule your second dental checkup of the year before your schedule becomes too busy with holiday plans. It's also a great way to make sure your smile is happy, healthy, and ready for Thanksgiving, Christmas, and the New Year!
If you're not careful, your Halloween can be haunted by cavities and toothaches! Keeping these five easy yet effective tips in mind can help keep you healthy while you enjoy the fall festivities!
About the Practice
At Flenniken Family Dentistry, we're proud to showcase the talents of our team of five highly trained doctors. While their combined years of experience and training can help you overcome nearly any oral health issue, they'd much rather help you stop them from developing in the first place! With regular dental checkups and excellent preventive care, we aim to spot and stop problems as early as possible to keep your smile strong and healthy all year long. To learn more, we can be reached via our website or at (717) 249-7777.