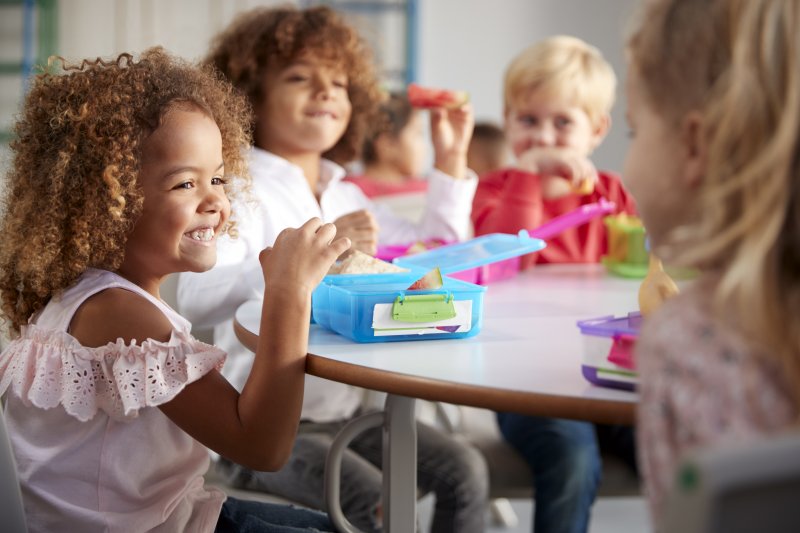 We all know that school lunches are much better than they were 20 or 30 years ago, but do you really trust what it is your child is eating at school? If you've made the decision to start packing their lunch, you might feel more in control of the types of food they're consuming, but what is truly healthy? A children's dentist understands the difficulties that can come with deciphering which foods claims to be healthy and which ones actually are. Before you head to the grocery store in hopes of making the right choice, here are some of the best foods to pack in your child's lunch as well as ones you should avoid.
Why Good Oral Health Should Start Early
Young teeth need just as much care as permanent, adult teeth. You might be surprised to learn that a child's first visit to their family dentist should occur by their first birthday or when the first tooth erupts through the gum line. The reason is that good oral health should start early. As children grow, they become more susceptible to tooth decay and cavities because of their inability to practice good oral hygiene. It's not necessarily that they don't want to brush or floss their teeth, it's that they can't reach certain areas of their mouth or don't understand the importance of brushing for two full minutes.
As a parent, it is your job to help and encourage them to maintain good oral habits, one of which includes eating healthy, nutritious meals.
How Food Can Impact Your Child's Smile
Obviously, you want your children to have a varied pallet. Too often, parents get stuck fixing only a few choice foods items for their children because of their child's dislike for many of the items on the standard food pyramid. Chicken nuggets, hot dogs, chocolate milk, and maybe even pasta become the norm, limiting the type of nutrients your child needs.
Foods that have too much sugar, starch, or acidity can be harmful to their teeth and gums simply because these can result in harmful bacterial growth in your child's mouth. Not only can bacteria burrow into the crevices of their teeth and create cavities, but it can cause severe tooth decay and actually be damaging to the permanent teeth that will try to come through once baby teeth are lost.
Making sure they're eating a well-balanced diet for every meal, as well as opting for healthy snacks, will make all the difference in the world for their smile.
This or That: Good vs. Bad Foods to Pack
When staring down your countertop to begin packing their lunch, here are a few items that will give you the reassurance that their teeth and gums will stay in good shape:
Apples, bananas, oranges,
Spinach
Celery, tomatoes, carrots
Cheese
Salmon or other Omega-3 fatty acid foods
Turkey or chicken
Low-Fat Yogurt
While packing all of these healthy and nutritious foods, you might be tempted to "treat" your child with one of the following, and while a treat on special occasions is fine, it's best if they are left out of the lunch box:
Granola or granola bars
Enhanced water or sports drinks
Trail Mix
Chocolate or candy
Dried Fruit
Smoothies
Sodas or fruit juice
Send your little one off to school with a lunch that will not only be good for their overall health but their teeth and gums, too. You'll feel better knowing you're keeping their oral health in the best shape possible with the right food choices.
About the Practice
At Flenniken Family Dentistry, our team of dental professionals and staff offer comprehensive, comfortable care for each patient who walks through our doors. Not only are we committed to offering patient-centered treatment, but we strive to exceed expectations with every visit. From preventive care to restorative and cosmetic dental solutions, you can entrust that we have the skills, techniques, and technologies to help you and your family achieve a beautiful, healthy smile. To learn more about us, visit our website or call (717) 249-7777.