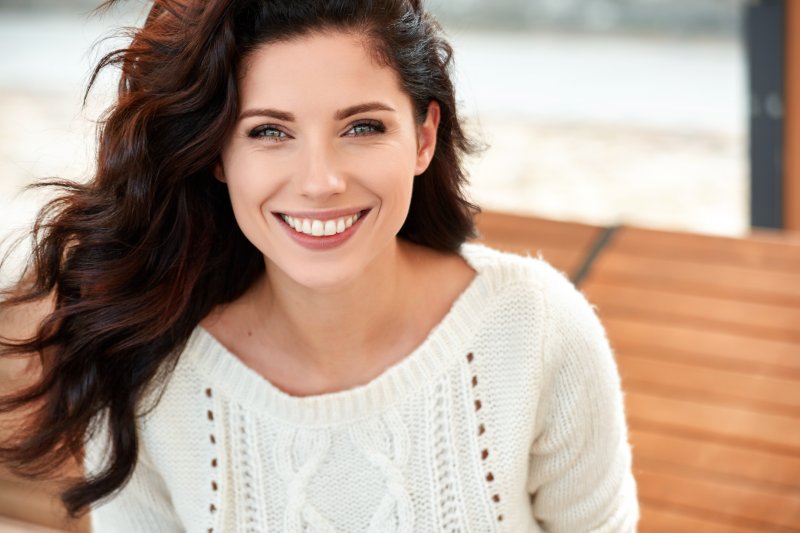 Did you know that a whopping 74% of U.S. adults have crooked teeth? However, the staggering statistics don't stop there. In a recent study, researchers found that 80% of people want a whiter smile, 48% have untagged themselves from a picture on Facebook that showed their teeth, and 33% are unhappy with their smile. Fortunately, innovations in technology and modern techniques have made aesthetic dental treatments effective, quick, and accessible! If you face one of the below common cosmetic dental flaws, then read on for treatment options.
#1. Stained or Discolored Teeth
If your morning cup of coffee or evening glass of wine is leaving unsightly stains and pigmented discoloration on your teeth, then you are not alone. In fact, professional teeth whitening treatments are one of the most requested cosmetic dentistry procedures! By using a custom mouthguard, strong whitening gel, and powerful light, your dentist can brighten your smile up to eight shades in just one visit! So, if your teeth are starting to take on a yellow, brittle appearance, then don't hesitate to talk to your dentist about in-office or at-home teeth whitening options.
#2. Crooked Teeth
Whether you have had misaligned teeth your whole life or your teeth have shifted out of place since you had braces as a child, crooked teeth are a common complaint among patients. Decades prior, treatment would have necessitated metal brackets, pesky wires, rubber bands, and headgear. However, patients today can opt for virtually undetectable, highly effective, completely removable clear aligners. That way, you can get the straight teeth you've always wanted without the hassle!
#3. Chipped, Cracked, or Small Teeth
Misaligned and discolored teeth are major cosmetic flaws that are often the center of attention. However, more minute concerns can be equally as distracting. Fortunately, patients can opt for porcelain veneers that are completely customized to your smile! Plus, they can fix a number of cosmetic issues in one treatment. After a few visits, you can walk out of your dentist's office with a smile that rivals the celebrities!
If flaws in your teeth are causing you to feel insecure, then talk to your dentist about cosmetic dentistry. After scheduling your appointment, you'll be another step closer to achieving your dream smile!
About the Practice
Whether you need a routine cleaning, restorative treatment, or smile upgrade, the staff at Flenniken Family Dentistry is ready to help with a comprehensive array of services and world-class care. With their talented team at their side, Dr. Neil Flenniken and Dr. Suzan Rismani-Flenniken use their extensive experience, advanced training, and passion for their craft to help their patients achieve their dream smile. If you would like to speak with them about upgrading your smile, visit their website or give them a call at 717-249-7777.