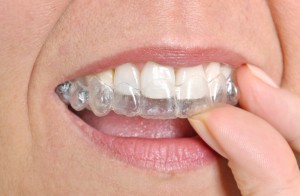 If you're tempted by the idea of getting straighter teeth with discreet, clear braces, we totally understand. Many adults and older teens have benefitted from Invisalign — in fact, the clear braces system is now celebrating 4 million patients served all over the world. Will you be next? Here's what you should know about Invisalign in Carlisle.
#1: It Really Is Practically Invisible
By far the biggest advantage of Invisalign (and there are many) is that it's almost undetectable. Sure, friends and family closest to you may know you're undergoing orthodontic treatment. But acquaintances and those people you have brief exchanges with at work and at play? They'll probably be none the wiser. That's because the Invisalign® trays are made of smooth, clear plastic — and they're thin, so your lips don't puff out like with thick metal brackets. Invisalign really is a natural-looking, subtle way to enjoy straighter teeth.
#2: It's About More than Just the Way You Look
Straightening your teeth benefits more than just the appearance of your smile — though that's a big motivator for undergoing orthodontic treatment. The truth is, teeth that line up the way they should promote better oral and overall health. They're easier to brush and floss, for one. And when your upper and lower jaw fit together the way they should, your TMJ (temporomandibular joint) is free of any undue stress.
So if you're considering adult braces but don't feel like investing so much in a purely cosmetic treatment, know that orthodontics are also an excellent choice for your continued wellbeing, too.
#3: Invisalign Is Convenient
From special cleaning techniques to frequent checkups at the dentist's, metal brackets and wires require a lot of maintenance throughout treatment. But Invisalign offers a convenient alternative. The removable trays allow you to eat what you want, and thorough brushing and flossing is just as easy as before you had braces. Invisalign also requires fewer visits to the dentist throughout treatment — so you can spend less time thinking about your treatment, and more time enjoying your straighter teeth.
#4: Retaining Your Results
Just like with traditional braces, you will need to wear a retainer once you have completed your Invisalign treatment. Without it, your teeth will gradually move back to their original position — something you've perhaps already experienced since you wore braces as a teen. Fortunately, the Vivera® retainer is as clear and comfortable as the Invisalign trays. You'll wear it for most of the day and night at first, but most patients only need to wear it at night after a few months of appropriate use.
#5: Paying for Invisalign
Invisalign is more expensive than traditional metal braces, but most insurance companies cover this option at the same rate as traditional orthodontics. If your insurance plan covers metal braces, give them a call to find out if Invisalign falls under the covered options. We can also help you find out this information.
Learn more about Invisalign from Flenniken Family Dentistry! Request an appointment online today.