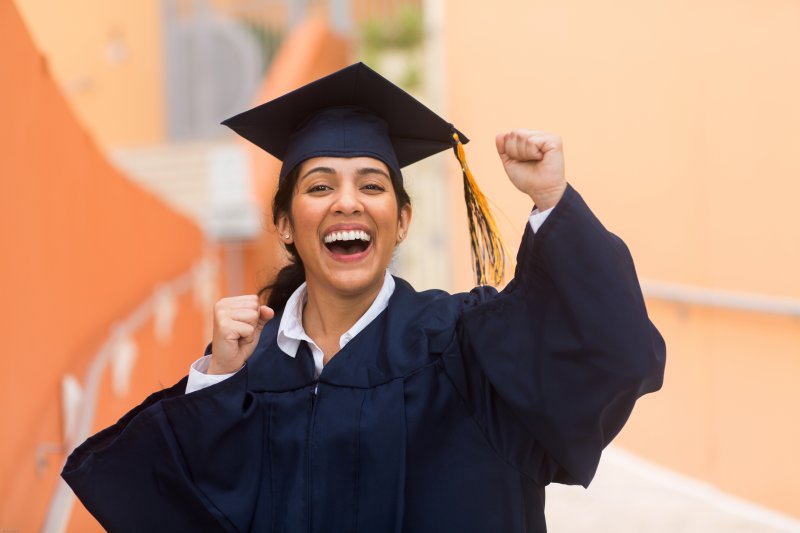 If you're one of the many people who are graduating from school this summer, you're about to take a massive step out of the education system and into the working world. You're also about to deal with an even more daunting task—taking dozens of pictures for every friend and family member that you have.
If you want to be ready for both of those things, cosmetic dentistry can help you. Having a smile you can be proud of will give you confidence at a job interview and help you make memories you'll be happy to look back on. Here are a few cosmetic dental treatments that are ideal for graduating students.
Teeth Whitening
If you're unhappy with the color of your smile, teeth whitening can help you get a brighter one within as little as a single appointment. Your dentist can layer a potent professional whitening solution onto your teeth, then use a specialized light to activate it.
Many dentists also offer a take-home whitening kit, which can let you get comparable results from the comfort of your home over the course of a few weeks.
Dental Bonding
If you've had something about your smile that's been bothering you for a long time, direct bonding can patch them up incredibly quickly. Your dentist will layer a tooth-colored resin onto your teeth, meticulously sculpt it to match your tooth, then harden it into place.
In just one appointment, you can erase chips and cracks that have been bothering you for years. Just in time to walk across the stage!
Porcelain Veneers
If you really don't like the way your smile looks and you want to enter the workforce looking your best, veneers can give you the shining smile of your dreams. No matter what you're dealing with, whether it's cracked teeth, misalignment, or severe discoloration, veneers can completely transform the way your teeth look and feel.
Between all of these treatments, you can look your absolute best on the day you graduate, and give yourself an advantage in any job interviews lurking just around the corner.
About Our Practice
If you're interested in getting comfortable, effective dental care to address any issue you might be having, we're proud to say that's what you'll get at Flenniken Family Dentistry. Everyone on our team is deeply committed to putting our patients at the center of everything that we do, so no matter what issue you're dealing with, you can be confident that you'll get gentle care tailored to your needs.
If you have any questions about cosmetic dentistry, we can be reached at our website or by phone at (717) 249-7777.