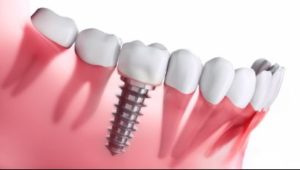 In the current "Information Age," it can be overwhelming to research a product or service before making a decision. There's so much information to sort through that it can be hard to distinguish between facts and opinions! But when you're making an investment in your oral health, it's crucial that you get valid information so you can make an informed choice. If you're one of the 178 million Americans who's missing at least one tooth and you're thinking about getting dental implants, you may have heard one of the 4 myths about them below. In this blog, you'll learn the truth about implants so you can decide if they might be right for you!
1. "Bargain Implants Are a Great Way To Save Money"
As implants have become more popular in recent years, many offices have begun offering them at "bargain prices." Although some of these offers could be legitimate, others may be using inferior methods or materials that can reduce an implant's chance of success.
That's why it's always a good idea to ask an implant dentist about their training, experience and choice of materials. High-quality implants can last decades, or even a lifetime, so it's worth it to make sure they're done right from the beginning!
2. "Getting Dental Implants Hurts"
Patients are always surprised that their implant procedure was so much easier than they expected. The first step is making sure you're completely numb, so the main sensation you might feel is pressure, similar to when you have a tooth extracted.
Done in-office, this small surgical procedure usually takes around 2 hours. Afterward, you can expect some mild discomfort for several days after the implant has been placed, but it's easily managed with pain medication.
3. "Implants Look Fake"
Implants actually look and feel more natural than any other option. If you have a single implant that's replaced with a crown, the crown will be precisely matched in shape and color so that it blends in beautifully with the rest of your smile.
Also, a good dentist will work with you every step of the way so the final result looks the way you want it to!
4. "Bridges Are a Better Option Than Implants"
Compared to implants, bridges actually have a couple of major disadvantages:
Additional teeth are affected – A bridge requires that the two adjacent teeth on either side of the empty space are ground down to accommodate crowns.
Longevity – Bridges don't typically last as long as implants because they don't handle the stress of chewing forces as well.
Knowledge is power – especially when it comes to making big decisions about your oral health. Now that you have the facts about implants, you're one step closer to making the right choice for you!
About the Author
Dr. Neil Flenniken is a general and implant dentist who knows what a positive impact dental implants have on his patients' lives. In addition to providing outstanding implant results, he also takes the time to educate his patients on all of their treatment options so they can make the right choice. If you're considering dental implants and have any additional questions, he can be reached via his website or at (717) 249-7777.