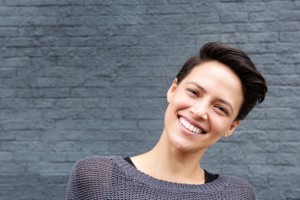 Some things in life can be ignored — like a scratch on your bumper, or a knee that creaks a little more than it used to. But a gap in your smile? That's something you can't forget about. Even just one lost tooth can cause serious issues with chewing and speaking… but we've got good news. Dental implants in Carlisle, PA are a comprehensive solution to tooth loss!
Why Dental Implants Are Best
Dental implants replace your missing tooth's root as well as the crown, or the part you can see. They're the only option that uses the strength of the jawbone to support the prosthetic tooth, and that's why we call dental implants a whole-tooth replacement.
Our bones thrive with stimulation, and the tooth's root provides the activity the jawbone needs to stay healthy and whole. Alternative options in tooth replacement, like fixed bridges and non-implant supported dentures, just do not receive adequate support — and they will need to be adjusted as the jawbone changes shape without stimulation from the tooth's root. Dental implants help the jaw remain whole and youthful-looking.
Dental Implants for Single Tooth Replacement
Can a dental implant replace just one missing tooth? Yes. Dental implants fill the gap and prevent further tooth loss. If you have already lost a tooth or are on the brink of extraction, a dental implant provides a stable, beautiful replacement. The procedure is performed in two phases: implantation and restoration.
To place a single dental implant, your implant dentist or oral surgeon opens the gum and places the implant underneath. Over a period of four to eight months, the jawbone grows around the dental implant. Recovery time depends on the location of the dental implant and the health of the jawbone.
After the dental implant and the jawbone have fused together — the process known as osseointegration — a connecting abutment attaches the dental crown to its implant. The dental crown is fixed and cannot be removed.
Candidates for Dental Implants
Many people who wish to benefit from the security of a dental implant are good candidates for the treatment. Your implant dentist will evaluate the health of your jawbone as well as your overall well-being to determine the best method for replacing your missing tooth or teeth. When the jawbone is not strong enough to anchor the dental implants, a bone augmentation procedure (like sinus lift or a bone graft) can prepare the mouth for dental implants.
Dental Implant Maintenance
When cared for properly, a tooth replaced with a dental implant can be expected to last a lifetime. In rare cases, a condition known as peri-implantitis causes initially successful dental implants to fail. Prevent problems and keep the dental implant healthy by brushing, flossing, and visiting your dentist regularly.
Let's Discuss Your Tooth Replacement!
Would you like to discuss single or multiple tooth replacement? Even just one missing tooth can cause real issues for a smile — don't put off finding a solution. Please get in touch with our office to schedule an appointment today.