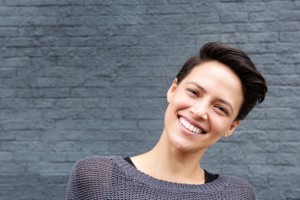 When you look at your favorite actor or actress, you might stop and think, "There's no way that their smile is all natural!" They have the perfect teeth, right? Gleaming, white, and shining bright in front of the cameras, ready to be shown on the big screen at all times.
Believe it or not, many of your favorite celebrities have received dental work that gives their smile that extra boost—some people even having porcelain veneers. But covering an imperfect smile with veneers hasn't always been the easiest task.
In this week's blog post, we're going to explore the history of veneers and how they've come to be one of America's favorite ways to achieve a perfect smile.
The History of Porcelain Veneers
Getting a "movie-star smile" was never that easy to accomplish, but it did serve the stars that played on the big screen. In the beginning, many actors and actresses would attach temporary veneers to their teeth for a show or filming. These were made of acrylic and didn't last long at all, becoming easily damaged. Plus, they looked extremely white and nonrealistic.
However, improvements were eventually made. Porcelain was first used in the 18th century, but dentists found that the material would often shrink and cause further problems because a patient's restorations wouldn't fit well.
Thankfully, a French dentist named Nicholas de Chemant found the solution to this porcelain problem, allowing porcelain to become one of the most favorable dental materials today. Now, there are different shades that allow us to match your veneers to your natural teeth, making them highly customizable. These days, veneers are able to give just about everyone the smile of their dreams.
Why Should I Consider Porcelain Veneers?
Veneers are a great way to improve multiple flaws in your smile all at once. If you have any of these imperfections, veneers can cover them in a realistic looking way, so that your cosmetic work appears just like your natural teeth:
Chipped teeth
Cracked teeth
Deeply set teeth stains
A tooth that is smaller than others
Misshaped teeth
Unusually worn teeth
Broken teeth
Ask Your Dentist About Getting Modern Porcelain Veneers
As we mentioned before, veneers have come a long way from those of the past. Instead of experimenting with your smile, our expert dentists now use tried and true, high-quality dental porcelain that can be created to match your smile goals.
The only way to find out if porcelain veneers are your best option is to visit your local cosmetic dentist for a quick discussion and treatment planning during a consultation.
---
About Our Office
Here at Flenniken Family Dentistry, we don't believe that beautiful smiles should only be reserved for those on the big screen" would be better. Everyone deserves to have a movie star smile! Let us help you reach your goals with the innovative, modern ways that we have available in our practice. Call us today to get started.