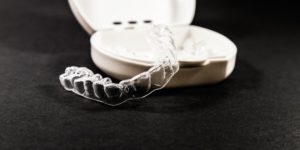 Since childhood, you've desired to have a perfect smile. However, the steps necessary to make that happen have yet to materialize. Thus, you find yourself in adulthood with the same desires but hesitant about the idea of wearing metal braces. Now that you're ready to make a change, is there not another way available? Your dentist has the perfect alternative for you – Invisalign – and he'll explain how the process works as you continue reading.
What is Invisalign?
Invisalign clear aligners are BPA-free plastic trays that are custom-crafted to adjust your teeth in two-week increments until you achieve the smile of your dreams. The process starts with you visiting your dentist for a consultation, at which time he'll examine the condition of your teeth to determine whether you are a good candidate for Invisalign.
The next steps are as follows:
X-Ray images will be captured of your teeth to give your dentist a full picture of your oral cavity.
Bite impressions and measurements will be taken, next, to be sent to a trusted lab that will fabricate your complete set of trays.
When your custom trays are ready, you'll return to your dentist to be fitted with the first pair and retrieve the complete treatment set, wearing each one for roughly two weeks. After each two-week period, you'll discard the current aligner for the next set in the sequence.
Why is Invisalign the Best Choice for You
There are several advantages to the Invisalign process that make it the best option for perfecting your smile, including:
Discreet Look – The trays are clear, so you'll be able to enjoy a discreet look throughout your treatment process.
Lifestyle – When wearing metal braces, there are certain foods that can't be eaten, but you won't have to worry about that with the Invisalign procedure. You'll be able to remove them when you eat, allowing you to experience all the wonderful flavors you love.
Oral Hygiene – Another huge benefit of wearing clear aligners is that you won't have to compromise your oral hygiene. Since you can remove them, you'll be able to brush, floss and rinse as usual, ensuring that you'll have a healthy treatment process.
Time – A final advantage that Invisalign has over metal braces is that it typically requires less time to correct your smile. Whereas the latter usually takes a minimum of 24 months, you can have a perfected smile in as little as 8-18 months with Invisalign.
Advantages like these completely change the outlook and perception of orthodontics and reassure you that there is a viable alternative to braces for improving your teeth.
The Benefits of Correcting Your Smile
Taking the steps to correct your smile imperfections will not only alter your appearance and provide you with improved confidence but will also deliver functional benefits. Straight teeth allow you bite and chew your food more efficiently and allow for better digestion. In addition, having properly aligned teeth allows for better pronunciation when you're speaking.
All of these positives are available but require one, simple step: for you to reach out to your dentist to schedule an appointment today!
About the Author
Since earning his DDS degree from Howard University, Dr. Neil Flenniken has gone on to provide expert care to his patients for over 17 years. As a preferred provider of Invisalign, he has the expertise to lead you successfully through the process of correcting your teeth and achieving the smile of your dreams. Dr. Flenniken can be reached for more information about his services through his website.