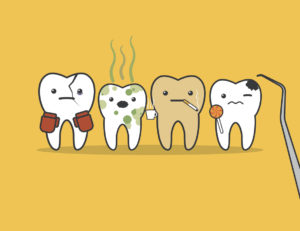 Everyone loves sweets, but has today's obsession with sugar and tasty foods put our oral health at risk?
Worldwide, people are consuming too much sugar. This overconsumption undoubtedly has negative effects on teeth and even our pocketbooks. So much so that the costs of dental treatments are running right around 172 billion dollars!
Your dentist is here to help you understand sugar and why you should consume it in moderation. In this week's post, we're here to help you save your smile and money.
Is there such a thing as too much sugar?
If you're trying to protect your teeth, think not about the amount of sugar,  but more so how often you consume it. Consider how many times you have sweets during the week. Malt shake with your burger meal? Cheesecake after dinner?
What about adding sugar to your coffee? With that alone, you're already on your way to bad dental health!  The American Heart Association recommends no more than just 9 teaspoons of sugar per day. But believe it or not, the average American adult consumes 22 teaspoons per day! American children? Just about 32 teaspoons! You better prepare to cash out on some serious dental work for you child in the future.
Are all sugars bad for you?
All sugar isn't great for your teeth, but some forms of sugar are worse than others. Take sticky caramel candies or toffee for example; both treats are delicious and full of sugar.
What makes them worse for you is that they're sticky and stay in your mouth for longer periods of time. The sugars in soft drinks, like soda, and the presence of acids in these types of drinks increase the chances of developing tooth decay.
How can I consume less sugar?
Just like any other body part, your smile needs the proper nutrition to stay strong throughout the years. It can be difficult to accomplish these days because there are even foods that contain "hidden sugars." Processed foods like ketchup, frozen foods, bread, and pastries all contain high levels of sugar.
Instead, try incorporating more of these natural foods with natural sugars in your diet.
Eat more fiber-rich fruits and vegetables.
High fiber foods have a crunchy nature that naturally scrubs your smile when you chew and simultaneously stimulates the natural saliva flow. This can naturally help your mouth clean itself and reduce chances of developing tooth decay.
Drink water throughout the day, every day.
When it comes to taking care of your health, water offers nearly unlimited benefits. It's the primary component to saliva, which is important in keeping your teeth and gums healthy. Water also keeps your mouth hydrated which is half the battle to eliminating chronic bad breath and chronic dry mouth.
Nuts are an easy, nutritious snack to incorporate into your everyday diet!
Many nuts provide vitamins and minerals that will keep your teeth, gums, and jawbone strong. Cashews, peanuts, walnuts, and almonds are just a few to try!
To reduce our dental bills, patients need to understand how to truly take care of their teeth. That means feeding your smile the correct nutrients to stay healthy.
About the Doctor
Patients that truly want to keep both their smiles and their family's smile healthy visit Flenniken Family Dentistry. Our dentists poses the skills, techniques, and technologies to help you achieve and maintain your strongest, most beautiful smiles. If you would like to speak to a dentist about diet and nutrition for healthy teeth, simply all our Carlisle office.