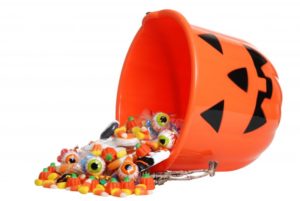 Halloween gives everyone an excuse to dress up in their favorite costumes and eat all the candy they want. While it's easy to take the costume off, cavities can't be removed once they happen. They can only be filled and maintained unless you intend on extracting and replacing the tooth entirely.
Tooth decay in children is particularly high this time of year, which is why a dentist wants to discuss some helpful tips on reducing their chances of getting a cavity before next year.
Pick and Choose the Candy You Eat
When it comes to Halloween candy, there are truly an overwhelming amount of choices to give out and collect. If you want to avoid the most harmful candies for your child's teeth, take note of all candy that is:
Hard
Sticky
Gummy
Chewy
Sour
Hard candy stays in the mouth longer, causing teeth to be exposed to sugar for longer periods of time. Sticky, gummy and chewy candy is more likely to not only get stuck in between teeth, but even unseat restorations like dental crowns. Sour candies are often more acidic, creating a more harmful environment for enamel and gum tissue.
Instead, opt for chocolate, which is generally less sugary, easily washes off of teeth, and stays in the mouth for a limited period of time. Look for candies containing xylitol, a natural sweetener that oral bacteria cannot break down and consume.
Know the Right Time to Indulge
When you snack, your mouth is generally producing less saliva compared to when you're eating meal. Therefore, consuming candy when saliva production is low reduces your body's ability to clean and remove food debris and bacteria from teeth. This makes snacking on candy one of the worst things you can do for your teeth.
Instead of eating candy throughout the day, save it for after a balanced meal. Use this tip as a way to teach your child the importance of patience and eating foods that are good for them.
Modify Your Diet
If you already drink soda with lunch or snack on sugary granola bars during the day, it's time that you make some adjustments. While avoiding these foods is important regardless of the time of year, it's especially important if you're going to eat more candy.
To mitigate sugar exposure, drink water with your meal and throughout the day. Stop by your office's water cooler to fill up a larger bottle. Provide your child with a water bottle during trick-or-treating and make sure water is easily accessible in your home.
Commit to an Oral Care Routine You'll Actually Do
Halloween is a more important time than ever to teach your child the best oral care techniques. While they're performing their oral care, make sure they:
Brush for at least two minutes
Use at least a pea-sized amount of toothpaste
Floss all teeth at least once a day
Brush all the surfaces of teeth
Brush along the gum line
Halloween doesn't have to be a nightmare for your child. To ensure their mouth is healthy, schedule their next dental exam after Halloween to catch early signs of decay!
About the Author
Dr. Neil Flenniken earned his DDS degree from Howard University. He's always happy to help young patients learn the importance of daily oral care and healthy eating habits. To get more tips you can use this Halloween season, you can contact him through his website.