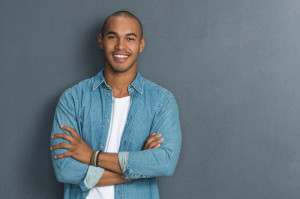 When you think of dentures, do you think of that glass sitting on your grandparent's bedside holding their prosthetic teeth? Many people hear dentures and assume that they're only for older patients. The truth is dentures are a great restorative option for anyone missing teeth, whether it's just a few or even a full arch. Flenniken Family Dentistry has a dentist in Carlisle that offers these dental prosthetics to restore your healthy, beautiful smile.
What are dentures?
Dentures are artificial teeth and gums that are custom formed to your mouth. Our dentists will  personalize them  to replace lost or removed natural teeth. The dentures in Carlisle that are offered at Flenniken Family Dentistry can either be full or partial, meaning they can either replace all teeth on either the top or bottom arches, or just a few that are missing in different places in your mouth. Regardless of what kind of dentures you may need, they will be custom designed to fit your mouth, and visually matched to your existing teeth.
Partial Dentures
When you think of partial dentures, imagine a puzzle piece that fits just for those missing teeth.  If you have more than one missing tooth and they're in different places of your mouth, your dentist will create a denture that replaces those teeth specifically.
Full or Complete Dentures
Complete dentures are usually what people picture when discussing this dental prosthetic. These dentures are able to replace full arch of teeth or even both if you need them to.
What are they made out of?
Traditional dentures were made out of porcelain or plastic, but more modern dentures are generally made out of a hard dental resin. These new and improved dental materials are used to make denture teeth are known to be more fragile than natural teeth and can easily chip or crack if dropped or cared for poorly.
Are you a good candidate for dentures?
If you're trying to figure out which denture is right for you, you should consider how many teeth you're missing. Consider these things:
Full dentures are recommended for people who are missing all of their teeth.
Partial dentures are the ideal choice if you are missing only some of your natural teeth.
Implant-retained dentures are a type of appliance stabilized by dental implants fused to the jaw bone. We can retain your dentures if their full or partial.
Immediate dentures should be used for patients with extracted teeth who desire dentures placed the same day.
Contact Flenniken Family Dentistry
At Flenniken Family Dentistry in Carlisle, our family practice works to understand the inner workings of your entire mouth, get to know your level of tooth loss, and ultimately determine the best replacement for you. The best way to go about getting your dentures is to schedule an appointment with our dental experts.