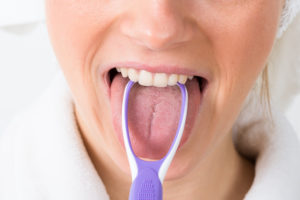 Have you ever sat closely next to someone, perhaps on a date or at an important work meeting, and been afraid to open your mouth to speak because of bad breath? Perhaps you were more than just embarrassed, but confused too, because you are very good about brushing your teeth every day? If you ask your dentist, he or she will tell you that good oral hygiene includes more than just brushing and flossing your teeth – it includes cleaning your tongue as well. Read on to learn more about why a clean tongue is important for a healthy mouth.
Why Should I Care About Cleaning My Tongue?
You already brush and floss every day to keep bacteria from building up on your teeth and hardening into harmful plaque and tartar – but do not stop there! Just like with teeth, it is important to regularly clean your tongue for a healthy, fresh mouth.
If you have ever looked closely at the inside of your mouth in the mirror, you have probably noticed tiny bumps on your tongue. These tiny bumps are called papillae, and bacteria, dead skin cells and food particles can collect within their grooves and be trapped by the thin layer of mucus that coats the fleshy parts of the mouth.
The trapped bacteria and other debris can cause bad breath and a white discoloration of the tongue, or be redeposited onto teeth and gums, increasing the likelihood of plaque and tartar buildup.
Two Ways to Properly Clean your Tongue
To avoid bacteria collecting on your tongue, there are two proper cleaning techniques: brushing and scraping.
Brushing – Just like you brush your teeth every day, you should also gently scrub your tongue daily from back to top with a moistened toothbrush to clean off bacteria and debris. It is best to clean your tongue after spitting out excess toothpaste from brushing your teeth, but before rinsing your mouth with water, so you still get the protective benefits of the toothpaste. Do not forget to gently scrub your cheeks and the roof of your mouth as well to get an all-around clean mouth.
Scraping – Tongue scrapers, designed to glide along the surface of your tongue and remove mucus, bacteria and debris, are an inexpensive alternative method for cleaning your tongue. When using a tongue scraper, always be sure to stick out your tongue and slide the device from back to tip while applying even pressure – this way you will not accidentally swallow any of the bacteria being removed. Once you have finished cleaning your tongue, thoroughly clean and dry the tongue scraper and brush and floss your teeth like normal. Tongue scrapers can purchased from most drug stores or pharmacies.
Whether you prefer brushing or scraping, cleaning your tongue should be a part of your daily oral hygiene routine. The next time you brush your teeth, don't forget this important step!
About the Author
The expert dentists at Flenniken Family Dentistry are dedicated to providing comprehensive, comfortable dental care to patients in Carlisle, PA, and surrounding communities. Dr. Neil Flenniken, Dr. Suzan Rismani-Flenniken, and their team strive to provide a welcoming environment to everyone who walks through their door, whether they are visiting for a simple checkup or a full mouth reconstruction. If you have any questions regarding your oral health, they can be reached through their website or by telephone at +1 717-249-7777.