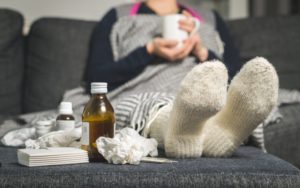 It can feel like you have to put your whole life on hold when you catch a cold or flu. We're all familiar with how symptoms like sore throats, persistent coughs, and runny noses can make it difficult to focus on anything besides getting healthier. As you shuffle to your medicine cabinet, you probably know the side effects of your go-to cold remedies, but do you know how they impact your mouth? Some popular treatments can stain your teeth, increase your risk of cavities, and make gum disease worse. You could be harming your oral health as you treat your cold! Follow these flu season tips to keep you healthy and your teeth happy!
Sip Tea and Juice Through Straws
No matter what you've come down with, it's always important to stay hydrated. Drinking a cup of hot tea or glass of orange juice can help you feel better faster. The Vitamin C packed into orange juice can give your immune system a powerful boost, and hot tea is known for soothing sore, scratchy throats. Unfortunately, they both weaken enamel and cause discoloration.
So how can you enjoy their benefits without staining your teeth? To protect your enamel, try drinking through a straw or chasing it down with a refreshing sip of water. Be sure that you're brushing your teeth regularly too!
Stick with Sugar-Free Cough Drops and Syrups
Cough drops and syrups come in a wide buffet of flavors, including watermelon, cinnamon, mint, and everything in between. While it may make the taste more appealing, these flavors can also drastically increase your risk of cavities with their high sugar content. These sugars coat your mouth and accumulate between your teeth and under your gums.
Instead, keep your teeth safe by trying sugar-free options, which come in a variety of flavors as well. You can also rinse your mouth out with water after taking these medicines or use gel capsule alternatives if they are available.
Stay Hydrated When Using Decongestants
A lot of us take breathing through our nose for granted until we become sick. Decongestants work on drying the sinuses to clear up a runny or stuffed up nose. This can also unfortunately interfere with the production of your saliva. A dry mouth is the perfect place for bacteria to grow quickly and contribute to any infections, spreading gum disease.
However, if you don't take decongestants, you'll likely end up with a dry mouth too! They best thing you can do is to stay hydrated. Drinking lots of water will help rinse out those harmful bacteria.
Don't accidentally hurt your oral health as your treat your symptoms this cold and flu season. Keep your teeth happy as you get healthy by watching out for these popular remedies that impact your oral health.
About the Author
Dr. Neil Flenniken is a general, preventive, and cosmetic dentist in Carlisle, PA. He is a graduate of Howard University in Washington D.C and a Fellow of the Academy of General Dentistry. His goal is to help his patients achieve and maintain happy, healthy smiles throughout every season of the year. If you'd like to know more about this article, he can be contacted at his website or at (717) 249-7777.