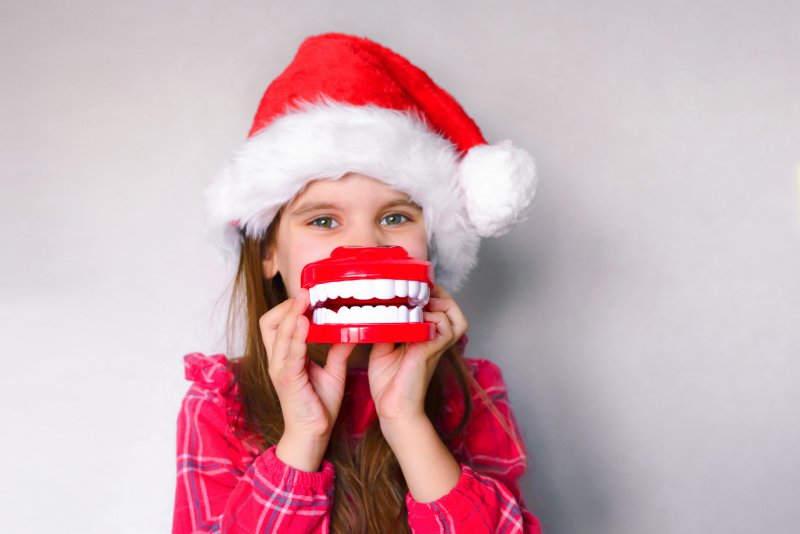 In addition to spending quality time with your friends and family during the holidays, you might also be looking forward to enjoying plenty of cookies, candies, and other sweet treats. But be careful; just because you're in the middle of a celebration doesn't mean you can afford to forget about your oral health! Here are 5 tips from a dentist that will keep you smiling through the end of the season.
1. Know What to Watch Out For
First of all, it's important to realize that some of the treats served during the holidays are more harmful than others. Anything that contains sugar should be enjoyed in moderation, of course, but you need to be extra cautious around hard candies and sticky foods like taffy. Because such snacks tend to remain in your mouth longer, the sugar they contain remains in contact with your teeth, which could easily lead to cavities and gum disease. While you don't necessarily have to avoid these treats altogether, it's important to know what to watch out for so that you can plan accordingly.
2. Make Holiday Treats Part of Your Meals
Eating sugar throughout the day can wreak havoc on your smile; you should time these snacks carefully. The best time for a holiday treat is immediately after or during a meal. That way, there's plenty of saliva in your mouth to help keep your pearly whites clean.
3. Take Care of Your Teeth After Eating
Ideally, you should brush your teeth after a meal or snack. If this isn't always possible, try rinsing with mouthwash instead to remove food particles and harmful bacteria. At the very least, you should always drink a glass of water after enjoying a holiday treat.
4. Maintain a Healthy Diet
You can control the damage to your teeth during the holidays by making sure you're also eating plenty of healthy foods such as:
Fruits and Vegetables: The fibers in fruits and vegetables can get your saliva flowing, and crunchy options such as apples and carrots can help scrub the teeth while you chew.
Low-Fat Dairy: The calcium in hard cheeses and skim milk is essential for maintaining strong teeth.
Protein: The lean protein in turkey contains phosphorous that helps protect your enamel.
5. Make Time for Good Oral Hygiene
No matter how busy things get, don't forget to brush your teeth at least twice a day and to floss on a daily basis. Also, if you haven't had two preventive checkups yet this year, you may want to put "make an appointment with the dentist near me" on your end-of-year to-do list.
It can be easy to get caught up in the festivities, but unless you want to make an emergency dental visit part of your holiday plans, always take the time to give your smile the protection it deserves.
About the Author
Dr. Neil Flenniken has nearly two decades of dental experience and has plenty of experience helping patients treat and avoid dental problems during the holidays. His Carlisle practice, Flenniken Family Dentistry, focuses on preventive care through cleanings, dental sealants, periodontal therapy, and other treatments. To schedule an appointment, visit his website or call (717) 249-7777.