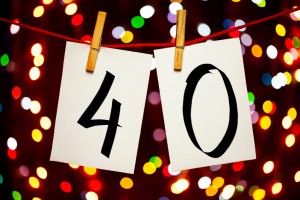 1976 was a big year for the world. Apple Computer Company was formed, the United States celebrated its 200th birthday… and maybe a bit more locally, Flenniken Family Dentistry opened its doors to the Carlisle community! It's been a wonderful four decades serving smiles in Pennsylvania, and we'd love to celebrate with our doctors, staff and everyone we've served. With that in mind, we're sending you a warm invitation to our 40th anniversary celebration!
Flenniken Family Dentistry 40th Anniversary Celebration
Please bring your friends and family for a day full of fun with the folks from Flenniken Family Dentistry! Say hello to our staff and meet the founders who started it all, Drs. Gene and Inge Flenniken. We'll all enjoy lunch with drinks and music from iHeartRadio!
In addition to these exciting events, we're proud to be raising funds for a young child who's currently undergoing cancer treatment. Your generous donation and support can really make a difference for this community member!
Other things to look forward to during our 40th Anniversary Celebration include:
A chance to meet local firefighters who will be providing important safety tips
Face painting for little ones
The chance to receive a $30 credit on any future work for any new patient referrals
This celebration is going to be a fun family affair — so don't forget to bring your whole crew for an afternoon of fun and food with the team from Flenniken Family Dentistry!
Please RSVP!
Our summer anniversary celebration will be held:
June 11, 2016, from 11am-3pm
30 State Ave in Carlisle
(If it rains we'll see you on the next Saturday, June 18th!)
We'd love to hear that you're coming to our 40th Anniversary Celebration. If you'd like to attend, please send your RSVP to smiles@flennikendental.com. From the whole team at Flenniken Family Dentistry, we can't wait to see you soon!