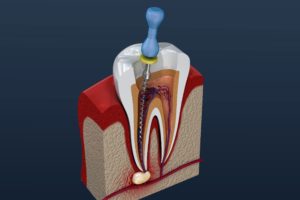 25 million root canals are performed annually to save damaged teeth. Although they are common, root canals are is only recommended to prevent further damage or decay that warrants an extraction down the road. Unfortunately, the procedure gets a bad reputation for being painful, but this couldn't be further from the truth. Anesthetics make the procedure pain-free, so you won't feel anything during your appointment. However, you might have some discomfort during your recovery. Here's what you can expect after getting a root canal. 
What to Expect with a Root Canal
Your dentist will administer a local numbing agent to block any pain signals before getting started. Special dental instruments will remove areas of decay and infection. The inner layer of your tooth, the pulp, will be extracted and your tooth will be sterilized before being sealed with a material called gutta-percha. 
It's not uncommon to receive a dental crown to protect your newly treated tooth. A temporary restoration will be placed over it while waiting for the dental lab to create your permanent crown. 
Recovering from a Root Canal
It's normal to have some tenderness after your root canal, which should subside in a couple of days. An OTC pain reliever will keep you comfortable. It's best to avoid any hot or cold foods and drinks for a few days to prevent sensitivity.
It can take the dental lab a couple of weeks to make your restoration, so your dentist will give you aftercare instructions to maintain your temporary crown, like watching what you eat. Your final crown will be made of strong ceramic, but your temporary one won't be as durable. Your dentist will recommend eating softer foods and avoiding anything hard, sticky, or chewy.
After your final crown has been sent back to the office, you'll return to have it bonded to your tooth. You may have some slight tenderness for a day or two, but in no time at all, you may forget it isn't part of your natural tooth.
Your crown can last for a decade or longer with the right maintenance, like a good oral hygiene routine. Besides brushing and flossing, visit your dentist every 6 months for a cleaning and checkup. It's best to break any bad habits that can damage your crown, like grinding your teeth or using them in place of scissors. Your dentist will advise you to keep any inedible objects out of your mouth, like your fingernails.
Save Your Smile with a Root Canal
Your dentist will explain the entire process and answer your questions during your consultation. You'll know exactly what to expect before and after root canal therapy, so you can sit back and relax in the dental chair.
About Dr. Neil Flenniken
Dr. Flenniken achieved his dental degree at Howard University in Washington D.C. and has completed additional education in many specialties, like restorative dentistry, dental sedation, and implant dentistry. If you need a root canal, he has the qualifications and a reputation you can trust. Contact our office today to request a consultation.