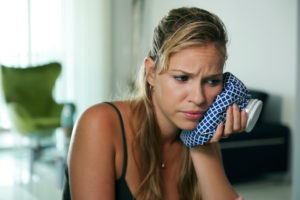 Few things in life are as common, or as unpleasant, as a toothache. Knowing the potential causes for this problem can help you to discuss solutions with your dentist. Here's a look at five possible reasons for aching teeth.
Three Causes That Have Nothing to Do with Your Diet…
Nutritional choices are among the first things people consider when suffering from tooth pain. Yet, in many cases, the problem has little to do with the food you eat. Here are three examples of what we mean:
Misaligned teeth. The idea that braces are only for kids is a common misconception. In reality, tooth alignment problems can afflict people of any age. Fortunately, modern dentists have a number of options for treating this issue, including Invisalign products that require remarkably little care.
Impacted wisdom teeth. Just because you can't see your wisdom teeth doesn't mean they're not causing you trouble. These pesky molars can put pressure on your other teeth, often while remaining below the gum line. This can cause discomfort throughout your jaw, Fixing this issue may require dental surgery.
Improper brushing. This can take two forms: quick, careless brushstrokes or overly aggressive brushing. Either can cause gum inflammation, bleeding, or tooth pain. To avoid this problem, brush thoroughly, yet gently, with a soft-bristle brush. You may want to switch to a low-abrasive brand of toothpaste. Ask your dentist for recommendations.
And Two That Do
Practicing proper nutrition is important, not only for your heart's sake but for your teeth and gums as well. Here are two ways that your dietary choices can give you an aching tooth:
By consuming excessive amounts of acidic foods, including fruit juices, soda, tea, coffee, and alcoholic beverages. Each of these products can corrode the external layer of enamel that protects your teeth, exposing the sensitive dentin underneath. While we're on this topic, we should mention that tobacco use can damage your teeth as well.
By eating too much sugar. You knew we were going to get around to this reason sooner or later, didn't you? Candy, baked goods, and other sugary foods are okay when consumed every now and then. Making them part of your regular diet, however, promotes tooth decay, which is the most common cause of teeth pain. To avoid these problems, eat a well-rounded, nutritious diet, brush and floss at least twice daily, and try sugar-free alternatives to sweets.
What to Do If You Have a Toothache
Make an appointment with your dentist right away. In the meantime, over-the-counter analgesics or an ice bag may provide some temporary relief. Above all, never, ever ignore tooth pain. Doing so will only make the underlying problem worse.
When all is said and done, the best treatment for tooth pain is prevention. Practicing good oral health habits will not only spare you from much agony, it will improve every aspect of your life. So take care of your choppers and see your dentist for regular cleanings and checkups. We wish you a lifetime of happy smiles.
About the Authors
The staff at Flenniken Family Dentistry has the equipment and expertise to treat all sorts of dental problems. We have two Carlisle locations for your convenience. You can reach the office online or by calling (717) 249-7777.