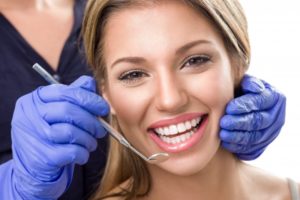 True or False: Your oral health has a lot to do with your overall health? It's true! Many patients don't realize that the way that they take care of their teeth, gums, and overall mouth can have a direct link to other systematic health concerns—even so much to say that it can kick start heart disease.
Learn more about gum disease and how it affects your heart health in this week's blog post.
What is gum disease?
Everyone knows that healthy gums are pink, firm, and help to keep your teeth in place. They are essential to overall great health because they protect outside stimuli from entering the body through holes in your smile. Plus, they work to protect the sensitive parts of your smile below the gum line.
However, when gum disease sets in, patients will experience signs of unhealthy gums, including:
Red, swollen gums
Bleeding gums
Gum recession
Chronic bad breath
Loose teeth
Pockets in the gums
Unfortunately, when gum disease sets in and begins to advance into periodontal disease, patients face inflammation and gum recession. This can easily correlate to other health concerns because holes in your smile are exposed, leaving your body susceptible to traveling bacteria in your mouth.
How does inflammation in the mouth affect the whole body?
As mentioned above, one of the severe symptoms of gum disease is gum recession. When you develop gum disease, your gums can become swollen, inflamed, and begin to recede from the teeth, exposing vulnerable areas of the smile.
After gum recession starts, the plaque and dental bacteria that is in your mouth can easily enter the blood stream. Healthy gums are usually there in place to block these harmful stimuli from the rest of your body. The bacteria and dental debris can enter through those holes in your smile and eventually cause plaque buildup in the arteries or even the brain. This is how some patients end up with heart disease or could even experience a stroke.
If you suffer from gum disease, it's essential to seek the appropriate treatment as soon as possible. Without help from your dentist, you could not only be risking your smile—but your overall health.
---
About Our Office
Here at Flenniken Family Dentistry, we know that having a healthy, beautiful smile is about much more than aesthetics. We work to keep your teeth and gums in great shape because it benefits your whole body! Since gum disease is one of the largest threats—and most common dental problems that American adults face—we are proactive in trying to prevent it. Learn more about how we can help you by giving us a call.