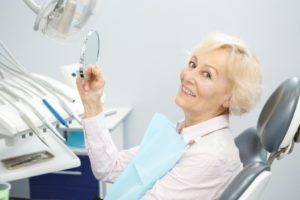 Did you know that by the time George Washington became president in 1789, he only had one natural tooth remaining? Contrary to the legend, he did not have a set of wooden teeth. Instead, he wore dentures made of ivory, which he often complained about for being painful and difficult to clean. While dentures have improved by leaps and bounds since Washington's day, they're certainly not perfect. Some people still find them uncomfortable, a hassle to clean, or unrealistic looking. Does this sound familiar? If so, dental implants may be the ideal solution for rebuilding your smile that you've been looking for.
Dental Implants are Comfortable
Recent studies suggest up to 39% of people who wear dentures often feel pain or aching in their mouth, and 22% report that dentures can make it difficult for them to relax. While this can often be alleviated by getting the dentures readjusted by a dentist, some patients will remain uncomfortable in their daily life.
If you choose to replace your missing teeth with dental implants, you might even forget that they are there! Dental implants are securely anchored into your jaw to mimic the stability and functionality of natural teeth. You won't feel them moving as you talk or eat, and they won't put any extra pressure on the surface of your gums.
Dentures Require Special Cleaning
As they rest in your mouth, your dentures naturally become covered in a layer of bacteria known as biofilm. To keep this biofilm from causing gum inflammation and disease, your dentures need to be removed, cleaned, and soaked at least once a day. If not, the bacteria can spread to your lungs and cause respiratory infections.
Not only do dental implants look and function like natural teeth, but they're cared for in the same way as well! You can keep them clean and the surrounding gums healthy with good dental habits like brushing, flossing, and using mouthwash.
Your Smile Will Look and Feel Natural
Dentures do their best to look like your natural smile, but some people still find that they don't seem real enough. Dental implants are designed to feel, function, and look just like natural, healthy teeth. With the help of attractive, high-quality materials like dental porcelain, your new teeth can seamlessly blend right into the rest of your natural smile.
If you're unhappy with your traditional dentures, it may be time to make a change! No matter how many teeth you're missing, dental implants could be the perfect solution for restoring your beautiful, natural smile!
About the Author
Dr. Neil Flenniken is a general, restorative, and implant dentist in Carlisle, PA. He is a graduate of Howard University in Washington D.C and Associate Fellow at the American Academy of Implant Dentistry. He has over 17 years of experience helping people rebuild happy, healthy smiles with implant dentistry. If you'd like to know more, he can be contacted at his website or at (717) 249-7777.