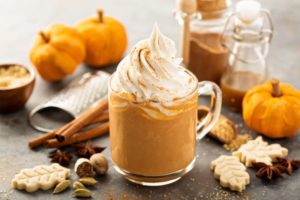 Enjoying seasonal hot drinks is one of the best ways to cozy up and enjoy the cooler fall and winter months. As the leaves change color and the holidays get closer, many of us are looking forward to sipping on hot chocolate, warm apple cider, or a pumpkin spice latte. However, have you ever wondered, "Are hot drinks bad for my teeth?" The answer may surprise you! Read on to find out how your favorite fall beverages impact your oral health and what you can do to keep your smile healthy all season long!
Sweet Seasonal Drinks & Tooth Decay
You probably already know that drinking too many sugary beverages can leave you with a mouth full of cavities. However, most people don't realize that the longer you sip on these tasty beverages throughout the day, the higher your risk of tooth decay is. Enjoying your pumpkin spice latte all morning long or your hot coco well into the night can be much worse for your teeth than if you had finished them in a timely manner.
Strong Beverages & Staining
Seasonal coffees and holiday teas are a classic choice for fending off the chilly mornings and afternoons this time of year. However, these drinks contain tannins. These highly pigmented particles are notorious for seeping into the porous texture of enamel and causing stains that are resistant to brushing. If you're not careful, your favorite hot drinks can leave you with a significantly discolored smile.
Pumpkin Spice & Enamel Erosion
Sugars and stains aren't the only problems you need to watch out for this time of year. Apple cider, spiced hot rum, coffee, and the ever-popular pumpkin spice latte can seriously damage your teeth. These beverages are all highly acidic, which means they can burn through your enamel very quickly. As your enamel erodes away, your teeth become more vulnerable to decay, discoloration, damage, and sensitivity.
Tips for Keeping Your Smile Healthy This Season
Thankfully, you can keep enjoying all your favorite hot drinks this fall while maintaining a healthy, beautiful smile with a few simple precautions, such as:
Use a straw: When you drink through a straw, you minimize the contact between your teeth and the sugars, tannins, and acids in your beverage.
Drink lots of water: Drinking water during or after enjoying your hot drinks will help keep your teeth clean and bright by washing away lingering residue.
Schedule your biannual dental checkup: Now is a great time to schedule your second dental checkup and cleaning of the year! Your dentist can help keep your smile strong this season with preventive care and even take years of stains off your enamel with a teeth whitening treatment.
Unfortunately, many popular beverages of pumpkin spice season can negatively impact your oral health in a number of ways. However, being mindful of which drinks you choose to indulge in and using these easy and practical tips can help your smile stay happy and healthy all the way through Spring and beyond!
About the Practice
At Flenniken Family Dentistry, we strive to help the smiles of Carlisle and the surrounding communities achieve and maintain optimal oral health for life. That's why our team of dental professionals prioritizes preventive care and encourages our patients to come in twice a year for routine checkups and cleanings. We offer services like dental sealants, professional teeth whitening, and many more to help you keep your smile sparkling. To keep your smile safe from hot drinks this season, contact us to schedule your appointment via our website or at (717) 249-7777.