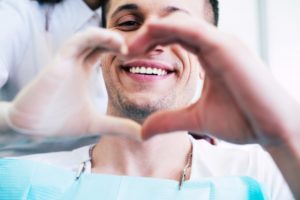 You probably already know that eating a balanced diet and getting plenty of exercise and sleep can keep your gut healthy and your metabolism moving at a steady pace. Did you also know that your oral health has a direct effect on how well your metabolism works? Every year, more than three million people are diagnosed with Metabolic Syndrome, which refers to a cluster of health issues that happen simultaneously that can be life-threatening. Keep reading to learn what those conditions are and how your oral health impacts them.
How Does Oral Health Effect the Health of Your Metabolism?
Over time, your body will change and so will your oral healthcare needs. Some of these changes will be out of your control, but you have the power to set your overall well-being up for success now. Your metabolism helps to keep you moving every day, and having a healthy one is extremely important. If you or someone you know suffers from Metabolic Syndrome or other gut issues, you may already know that they often involve elevated blood sugar and blood pressure, abnormal levels of cholesterol, and excess body fat on the waistline. But how is oral health linked to these symptoms and other metabolic issues?
Periodontal Disease
According to the Centers for Disease Control (CDC), an alarming 47% of the adult population suffers from gum disease. Research has shown that the bacteria produced by this condition actually causes the metabolism to malfunction. The inflammatory nature of the bacterium that is responsible for gingivitis, Porphyromonas gingivalis, alters the composition of the gut microbe. This is what ultimately leads to the symptoms of Metabolic Syndrome.
Poor Diet
If you've ever lived with severe decay or the loss of one or more teeth, then you're aware of how much it can affect your ability to chew. Unfortunately, people with missing teeth often do not get the nutrients their metabolisms need on a regular basis. Without the ability to eat certain foods that require biting and chewing, their diet becomes very limited. Maybe you've experienced this first-hand, but the less your body receives the essential vitamins and minerals that come from a balanced diet, the more likely you are to develop metabolic issues.
You've probably heard the phrase, "you are what you eat." As you age, your metabolism will naturally begin to slow down, so it's important to set your gut up for success now by taking good care of your teeth and gums.
About the Practice
Dr. Neil Flenniken and Dr. Suzan Rismani-Flenniken are focused on providing the highest level of dental care. They believe that one of the best ways they can serve their patients is by educating them about how to develop good oral hygiene habits and take great care of their smiles. They both have decades of training and gained knowledge, and you won't find a better team to care for your dental well-being. Is it time for your next dental checkup? You can schedule an appointment online or call (717) 249-7777.