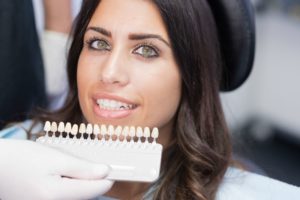 Did you know that porcelain veneers have been around for almost a whole century? However, they haven't always existed in the form that your dentist placed on your teeth. If you have veneers in your smile, you might sometimes be worried about how long they're going to last. Keep reading to learn how impressive this technology has become in the last hundred years.
The History of Veneers
It probably comes as no surprise that veneers originated in Hollywood. In the 1920s, a California dentist named Dr. Charles Pincus invented a ceramic covering that fit snugly over a person's existing teeth. Actors would wear them during a movie scene and then take them off.
Between the 1920s and 1950s, the idea of veneers correcting teeth took off among regular people. By the 1950s, dentists were applying veneers left and right to improve the appearance of their patients' smiles. At first, dentists had trouble getting them to stick permanently to the teeth, but Dr. Michael Bunocore discovered that the tooth's surface could be lightly etched with a mild acid. This created a surface to which the veneer could attach, making them permanent.
It wasn't until the early 1980s that veneers as we know them today really began. They became easier to place and thus more affordable. Their use then spread to more and more patients around the world.
Modern Veneers
Today's veneers involve a small sliver of enamel being removed from your affected teeth. Then, the surface of your tooth is slightly etched to create a powerful bonding surface. Impressions are taken, and temporary veneers are placed while your new smile is being crafted in a dental lab. Finally, after a few weeks, your temporaries are removed and your permanent veneers are placed, instantly beautifying your smile.
How to Make Your Veneers Last
With excellent care, your veneers can last longer than a decade. Here are some tips for proper veneer maintenance:
Use a soft-bristled toothbrush and fluoride toothpaste to brush for two minutes twice a day.
Floss at least once daily to remove food debris and plaque from between your teeth.
Avoid using your teeth as tools and chewing on hard objects like your fingernails, pencils, and ice.
If you grind your teeth, get a custom nightguard from your dentist.
See your dentist every six months for a checkup to make sure your veneers are still in good shape.
If you have aesthetic problems with your teeth, like chips, cracks, gaps, or stains, ask your cosmetic dentist about veneers to correct the issue. They will allow you to smile just like the movie stars!
About the Author
Dr. Neil Flenniken has a cosmetic and implant dentist in Carlisle, PA for almost 20 years now. He has earned a Fellowship with the Academy of General Dentistry and an Associate Fellowship with the American Academy of Implant Dentistry. His practice offers resin and porcelain veneers to restore your teeth to perfection. To learn more, contact Dr. Flennekin at (717) 249-7777.