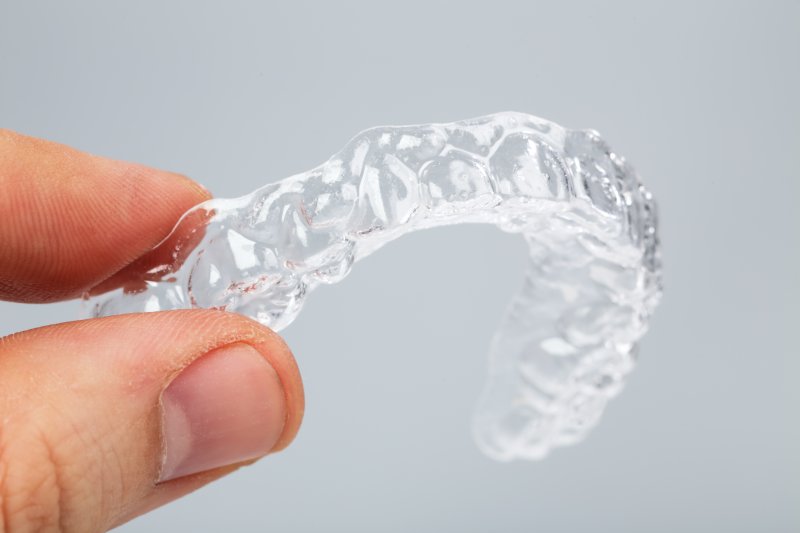 We live in a world where you don't need to settle for a smile that you aren't confident showing off. There are several different teeth straightening options out there to choose from, including Invisalign. This treatment involves the use of a series of clear aligners to slowly push your teeth into their new places. As you probably expected, you need to wear an Invisalign retainer after your treatment, but for how long? Continue reading to find out.
How Long Does a Retainer Need to Be Worn?
The number of hours that you will need to wear your retainer depends on your individual treatment plan. However, patients are generally asked to wear their retainer between 10 and 22 hours each day for about 3 to 6 months. At this point, it is recommended that patients wear their retainer while sleeping every night for at least one year. After this point, your dentist may suggest that you wear your retainer for a few nights a week in order to prevent future movement. In the end, if you don't want your teeth to shift back, you will need to wear your retainer for the rest of your life.
What Happens If You Don't Wear Your Retainer?
When you get orthodontic treatment, like Invisalign, your teeth will move from their original locations to new ones. However, they won't stay into their new spots for very long afterwards without the use of a retainer. Retainers are meant to lock your teeth into place and keep them from shifting back to their starting points. This way, you won't end up needing additional orthodontic work later on. You don't want your teeth to undo all of the hard work.
When Do You Get Your Invisalign Retainer?
You will receive your retainer after you complete your Invisalign treatment. It looks very similar to your actual aligners. The difference is that they are not designed to put additional pressure on the teeth. Instead, they are created to keep your teeth in their places and prevent future movement. It is an easy way to avoid future misalignment issues.
Wearing your Invisalign retainer is a lifetime commitment if you want to keep your teeth looking and feeling their best. Fortunately, you don't need to be wearing it all the time like you do with your aligners. With proper care and maintenance, you will be able to sport your aligned smile for the rest of your life!
About the Author
Dr. Neil Flenniken is an experienced dentist who has been working in the field for more than 17 years. He earned his dental doctorate from Howard University in Washington D.C. and is a graduate of the prestigious Las Vegas Institute for Advanced Dental Studies. He is a Fellow of the Academy of General Dentistry and an Associate Fellow at the American Academy of Implant Dentistry. Dr. Flenniken is a preferred Invisalign provider. For more information on Invisalign or to schedule an appointment at his office in Carlisle, visit his website or call (717) 249-7777.