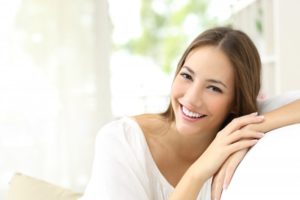 Have you already had braces or dental work done but still want to improve your smile? Are you wondering whether it's possible to receive Invisalign aligning trays after you've already made changes to your teeth? Sometimes, teeth can shift after braces get removed or you stop wearing a retainer. Your trusted dentist has got you covered. Keep reading to learn if Invisalign is a possibility for you!
What is Invisalign?
Invisalign is an orthodontic treatment that straightens your teeth using clear, customized oral trays that slowly but surely move your teeth into their proper positions. Since this treatment is made from hi-tech clear plastic, it is the most discrete way of straightening your teeth compared to normal braces.
Because this treatment has gotten so popular, we want to make sure you know whether it is still an option for you after receiving braces or other treatments from your dentist.
What if I've Had Braces or Other Types of Dental Work?
Invisalign doesn't work for every orthodontic issue, especially more severe cases. For example, Invisalign should not be recommended to anyone with a severe under or overbite. The aligning trays can straighten your teeth, but they cannot shift the jaw.
Invisalign can be more successful with some previous dental work rather than others. Read on below to see if Invisalign is right for your smile.
Braces
After you've had braces, you will be an even better candidate for Invisalign than before. Your traditional braces will have corrected serious misalignment or gaps that could not be aided by Invisalign. Since Invisalign works best for mild to moderate teeth straightening, it will be an easier, more seamless treatment after having had braces. In some cases, after your braces have been off, your teeth will shift. This is a great example of when Invisalign can be an ideal treatment to guide your teeth back in place discreetly.
Bridgework
Receiving Invisalign after certain types of dental treatments may not work out as easily as the transition from braces. If you have bridgework done in your mouth, the aligners may be ineffective because they are designed to move each tooth individually. Dental bridges replace missing teeth in a row by connecting two or more teeth so your Invisalign wouldn't be able to align your teeth properly.
Veneers, Crowns, and Dental Implants
If you have veneers, crowns, or dental implants, Invisalign is the best way to straighten your teeth because these restorations are individual compared to a bridge which is a row of multiple teeth. Traditional braces would be too aggressive with your previous dental work causing damage, but Invisalign will gradually shift your teeth without harming your restorations.
The best way to find out if Invisalign is right for you after braces or dental work is to talk to your trusted dentist. They will take into consideration what types of dental work you've had done and develop a personalized treatment plan that is the most effective for your mouth.
About the Practice
We have 5 expert dentists on staff at Flenniken Family Dentistry who are ready to help with all your dental needs in Carlisle. Dr. Neil Flenniken is a preferred provider of Invisalign, meaning he has treated a very high number of patients successfully with these clear aligning trays. If you have any questions, our dentists can be reached by phone at (717) 249-7777.