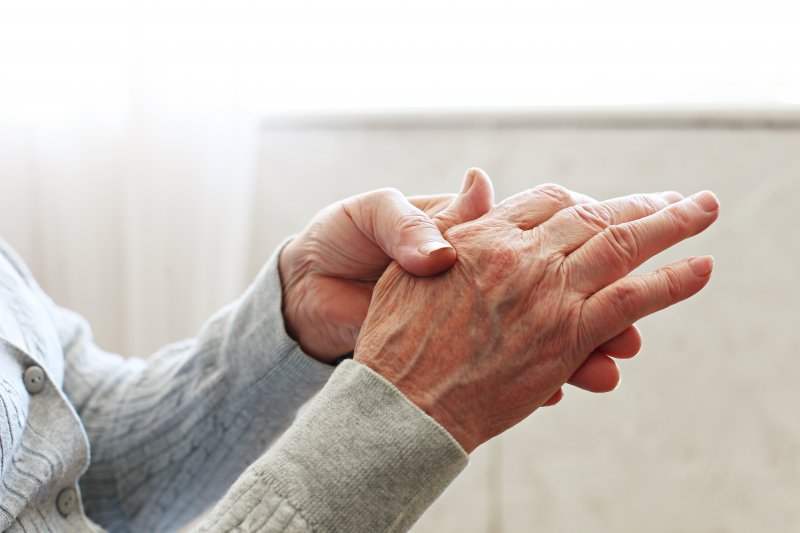 Rheumatoid arthritis (RA) is a debilitating inflammatory disorder that can affect more than just your joints. The stress RA puts on your body can magnify many other problems you may have, including issues with your oral health.
RA can be a difficult disorder to manage, but the five tips below can help you keep your mouth healthy so you can focus on other things. Continue reading to learn more.
1. Keep Your Routine Regular
It can be tempting to skip your oral health routine due to discomfort, but continuing the routine is very important. Bacterial plaque builds up over time on your teeth and will begin to wear down the enamel of your pearly whites if left to sit. People with RA are eight times more likely to contract gum disease, and plaque is the catalyst.
Worse still, this same bacterium can get into your gums and cause periodontal disease. Once this happens, it can become a very irritating and serious condition.
Not only will your gums become irritated and inflamed, but your teeth may start to loosen as the disease progresses.
2. Use an Electric Toothbrush and Water Flosser
Electric options like toothbrushes and water flossers are a great way to ease the burden of cleaning your teeth on your joints. You'll only need to grip the device and use slight movements.
In addition, these options generally have much thicker grips on them, so you won't be manipulating finer objects.
3. Use Pump Toothpaste
Squeezing a tube of toothpaste can be difficult with RA. Instead, try to find a toothpaste that operates via a pump nozzle. Alternatively, you can opt for a motorized toothpaste dispenser. This can save you some discomfort while you're trying to perfect your routine.
While you're addressing your toothpaste, make sure to find one that is labeled "for dry mouth." This will provide extra relief for aching or sensitive gums by stimulating saliva production. The right toothpaste can make all the difference in your oral health routine.
4. Avoid Sugar and Starch
These two types of food are the number one culprits for oral health issues. Sugary snacks, sodas, and juices, as well as starch-laden pasta, chips, and French fries, will trigger the bacterial plaque in your mouth to work overtime.
You don't have to avoid these foods completely, but it's important to mitigate the damage they can cause by drinking water after eating them and then brushing your teeth to remove the sticky plaque.
These tips are great for helping you to continue your oral health routine and prevent plaque buildup. While it's generally recommended to see your dentist twice per year, it might be a good idea to increase the frequency as needed.
Your dentist can continue to monitor you and provide professional cleanings to keep your smile clean and healthy. If you suffer from rheumatoid arthritis, that alone could tip the scales of oral health in your favor.
About the Practice
Flenniken Family Dentistry is a leading dental practice dedicated to providing top-quality oral healthcare for families. With a focus on patient comfort and advanced dental techniques, their experienced team ensures your smile is in the best hands. They are committed to promoting lifelong oral health, offering a comprehensive range of dental services. To schedule an appointment, call (717) 249-7777 or visit the website to explore their services.