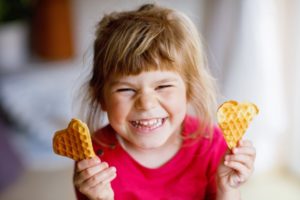 The new year has passed, and it's been a while since you've enjoyed a festive party. The good news is that March has arrived and there is plenty to celebrate during the third month of the year! From St. Patrick's Day to National Waffle Day, the fun will be nonstop. However, like most enjoyable holidays, there will be plenty of treats that can harm your smile. Here are three fun days to celebrate in March while also keeping your pearly whites healthy and safe!
National Pi Day
Ready to celebrate a number? March 14th, or 3/14, is a time to honor the very popular number pi (with the first three numbers being 3-1-4). And what better way than having some PIE! However, while most people love this delicious and comforting dessert, it can do a number on your teeth (pun intended). Pies are incredibly high in sugar, as well as acidic if they contain fruit. To protect your smile on International Pie Day, try to limit yourself to just one piece, and be sure to brush your teeth after enjoying it so you can wash away the remaining sugars and acid.
St. Patrick's Day
Time for a day of green galore! St. Patrick's Day is enjoyed by many, with various parades and get-togethers. While it is fun to be around all the shamrocks and leprechauns, eating all those emerald-colored treats is not so great for your grin. From green beer to green baked goods, the food coloring can stain your pearly whites. Try to avoid these goodies if possible. But if you can't resist, follow up by brushing with a tooth-whitening toothpaste and some floss. If your stains linger, you can always go visit your dentist for a professional deep clean of your teeth.
National Waffle Day
Guess what day will be wonderful for eating waffles? Saturday, March 25th! You can wake up after a long work week and enjoy those honeycomb-patterned treats. The only problem for your oral health is what you put on top of them. Once waffles made their way to the U.S. from Belgium, Americans decided the best thing to pour on them was tons of maple syrup. Unfortunately, syrup has a very high sugar content, making your teeth more susceptible to cavities. Luckily, there are many low-sugar options. Or, if you just can't resist pure maple syrup, try putting it in a side dish and dipping your waffles into smaller amounts of it. Your tummy will thank you for the waffles, and your smile will thank you for protecting it!
About the Practice
Flenniken Family Dentistry keeps the smiles of Carlisle whole, healthy, and beautiful through its team of dental experts. With a focus on high-quality care with the use of advanced dental technology, they provide a full range of comprehensive services. They can help you with any oral health need, whether it's preventive, restorative, or cosmetic. To schedule an appointment, contact them through their website or call (717) 249-7777.