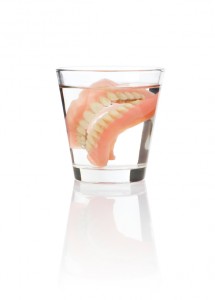 With more than 35 million Americans missing all of their teeth, dentures remain one of the most widely used forms of tooth replacement. However, only about 15 percent of those with tooth loss have dentures made each year. For those who have yet to get dentures, they are suffering needlessly from a decreased quality of life. You can easily regain your quality of life and enjoy simple tasks again, like eating and speaking, with custom dentures. As a dentist for dentures in Carlisle, we encourage you to fix missing teeth with prosthetic teeth.

Enjoy the Benefits of Dentures in Carlisle
We all know the confidence issues you face when you start to lose teeth, but did you know the loss of even one tooth causes your quality of life to decrease? Not to mention, your oral health begins to decline if you leave the missing space untreated. The bone that supports the teeth requires stimulation to stay strong and healthy. When you lose a tooth, that stimulation decreases, causing a 25 percent loss of the width of the bone within just a year of tooth loss. As the deterioration continues, your surrounding teeth lose their support, causing them to shift and increasing the risk for tooth decay, gum disease, and additional tooth loss. Partial dentures provide your remaining teeth with the support they need to properly stay in place. Not to mention, dentures help decrease the rate of bone loss.
The health and density of the bone is also important for maintaining facial structures. If your facial structures aren't supported due to missing teeth, your facial appearance will begin to change negatively. Dentures provide the support your facial structures need to prevent sunken lips and sagging cheeks.
In addition to a healthy, stronger mouth, dentures allow you to once again enjoy simple daily tasks like smiling, talking, and eating. When you have missing teeth, you often develop dietary restrictions because you are no longer able to eat certain foods. Plus, your speech can become slurred and mumbled as the spaces in your mouth make talking harder. Dentures allow you to take control of your life to eat the foods you enjoy without any restrictions. You'll talk clearly and smile confidently with well-fitting, natural-looking false teeth.
Your Dentist in Carlisle
While many people remain hesitant to get dentures because of the misconception they are uncomfortable, difficult to clean, and do not look natural, advancements now resolve all of these issues. With the right technology from a dentist in Carlisle, we will create a custom-fitting set of dentures that will stay securely in place. You won't have to worry about your dentures falling out or slipping. Plus, dentures now look more realistic for a natural looking smile you'll love.
When you choose dentures in Carlisle, you'll benefit from immediate tooth replacement that requires no healing or surgeries. You'll instantly regain your smile and quality of life with partial or full dentures. Let Flenniken Family Dentistry restore your life with custom dentures today.