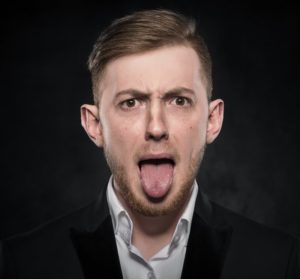 You clean your teeth every day. You follow the guidelines your dentist gives you for oral care, and yet you still have bad breath. Why? Somehow bacteria must be in your mouth somewhere. Have you thought about the bacteria on your tongue? We sometimes take it for granted, but the tongue too needs to be cleaned regularly to eradicate the bacteria that cause bad breath. Check out this helpful information about your tongue and why and how you should clean it.
What the Tongue Does for Us
Your tongue serves many functions for you. You use it to produce coherent sounds when you speak, to taste the foods you eat, and to move those foods around in your mouth so you can chew properly. It is an important part of your mouth that you often neglect in your oral hygiene.
Why You Need to Clean Your Tongue
The surface of your tongue has little bumps called papillae (commonly called taste buds). These bumps can collect bacteria and food particles, and when you mix that with coats of mucus, you can get bad breath even if you brush consistently. Also, the bacteria on your tongue can redeposit onto your teeth and gums, increasing the chances of plaque and tartar buildup and oral problems. The simple act of cleaning your tongue can help prevent all this.
How to Clean Your Tongue
The easiest way to clean your tongue is to use your toothbrush right after you've cleaned your teeth but before you have rinsed all the toothpaste from your mouth. With the residual toothpaste still on the toothbrush, gently scrub your tongue from back to front and on the sides, the roof of your mouth, and cheeks to ensure that your entire mouth is clean and fresh.
You could also purchase and use a tool specifically for cleaning your tongue called a tongue scraper, which can be found at more drugstores. Whether you use a special tool or just your normal toothbrush, you should clean your tongue as part of your daily routine.
By taking the extra minute or so to add your tongue to your daily oral care routine, you can more effectively fight bad breath and protect your mouth against harmful bacteria. Your tongue serves you well; the least you could do is keep it clean in return. For more information about oral health and hygiene, contact your dentist in Carlisle.
About the Practice
With decades of experience, the dentists at Flenniken Family Dentistry have the skills to handle even the most difficult cases. Every staff member is dedicated to patient-centered care and exceeding expectations in treatment ranging from preventive to restorative and cosmetic. To contact them for an appointment, you can call (717) 249-7777 or click here.