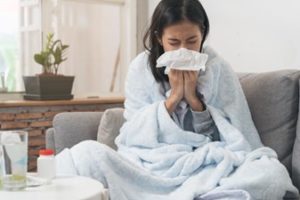 The cold and flu season is in full effect, and you're just trying to stay healthy. Because they are frequently removed and placed back into your mouth, using Invisalign can expose you to more germs than usual. This puts you at risk for any illnesses that may be going around your office, school or community. Keep reading to learn a few tips and tricks on protecting your health during your Invisalign treatment.
Keep Your Hands Clean
This may seem obvious, but washing your hands before you touch anything that goes into your mouth is your first line of defense when it comes to avoiding illness this season. Germs are everywhere, so it's important to keep your hands clean every time you insert or remove your aligners. Washing your hands isn't always possible, so you should try to keep hand sanitizer nearby. For extra protection, it may be a good idea to purchase a clear aligner removal tool that can be kept inside your storage case. This will keep you from having to place your fingers deep into your mouth when it's time to take out your aligners.
Store Your Aligners Properly
It might be easy to simply place your Invisalign trays on a napkin while you eat, but you are putting yourself at risk! This is the perfect time for them to attract germs. Viral bacteria can build up on your aligners and cause you to become ill. Every time you take out your trays, you should place them in their case to prevent them from getting lost or damaged, but more importantly, so they don't get you sick!
Keep Personal Spaces Clean
If you frequently use a cell phone, work on a computer, sit at a desk or use equipment throughout your day, it is crucial to keep things clean. Even if you are the only one who touches these items, you are still at risk of picking up germs. A study performed by microbiologists at the University of Arizona found that cell phones often contain 10x more bacteria than toilet seats and desks can have up to 400x more!
What to Do If You Get Sick…
You can't avoid all germs, so you may end up catching a cold. If you do, it's not the end of the world. Here are a few ways to handle getting sick during your Invisalign treatment:
Keep your aligners clean
Try not to ignore your dental hygiene routine
Use sugar-free cough drops
Drink plenty of water to stay hydrated
If you are dealing with a stomach virus, keeping your trays clean is even more important. Specialty cleaners can get rid of any unpleasant odors. If you don't have one, a soft toothbrush and baking soda will also do the trick.
Getting sick during the holiday season is no fun for anyone, especially if you have Invisalign clear aligners or other orthodontia. With these tips, you can protect your treatment and protect yourself from the cold and flu season.
About the Practice
Dr. Neil Flenniken has over 17 years of experience in dental health. He is certified in laser dentistry, as well as Nitrous Oxide and I.V. sedation and can offer sedation dentistry to patients with dental anxiety. He is also a preferred provider for Invisalign. Dr. Flenniken and his team of doctors at Flenniken Family Dentistry are committed to providing exemplary dental care and offer a wide range of services. If you have questions about how to keep your oral health and Invisalign treatment on track during cold and flu season, contact the office at (717)249-7777 or visit the website to schedule a visit today!