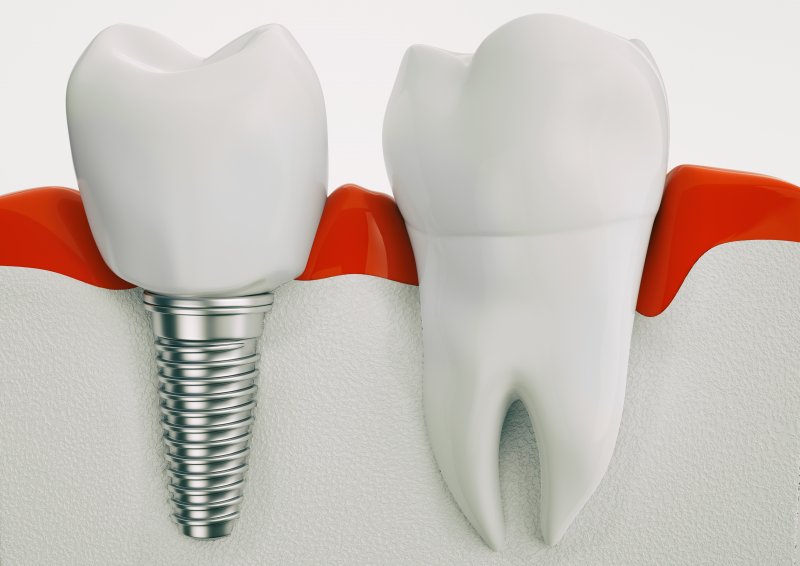 If you've been researching ways to replace your missing teeth, you've probably seen or even discussed with your dentist the possibility of pursuing dental implants. These unique restorations don't just give you the look of a smile, but they actually restore the entire tooth's structure, which, in turn, improves your oral health! Obviously, they're not the only option available, but they are a superior method of treatment. Let's find out more about how dental implants came to be and what we can expect to see from them in the future.
How Have Dental Implants Progressed?
Thousands of years ago, people were attempting to address tooth loss by inserting various materials into their jawbone. It was apparent they knew that without strong bone, nothing would hold up, so archeologists found everything from seashells to stone embedded into the mouths of these individuals. It wasn't until the 1950s that titanium became the ideal solution to safely and effectively fuse to the bone and surrounding tissue, thus, the creation of the dental implant.
Proving to be unlike any other type of treatment, they were catapulted to the forefront and became one of the most popular restorative methods available. However, one of the most pivotal aspects of successful implant placement is the healing process, which can take several months. Osseointegration must be complete before any type of restoration is placed on top of the implant.
As humans often do, we want things to be completed faster, which is why research is being done to discover ways to quicken the healing time and give people fully restored smiles faster than ever before.
What Does the Future Look Like for Dental Implants?
With technology advancing every day, the field of dentistry and implant dentistry is changing at rapid speed. If you've noticed your implant dentist has new equipment or machinery in the dental office, it's because they believe these newer pieces of technology can make a procedure quicker, reduce healing time, and offer greater precision and accuracy. When it comes to what is possible when you combine dental implants and technology, the opportunities for what is to come are endless. In fact, here are a few things we can expect to see in the coming years:
Use of CAD/CAM: Using computer-aided design and manufacturing, dentists will be able to customize and create replicas of damaged and decayed teeth. The reason this is important is that there will be no lag time between tooth extraction and implantation. Patients will achieve fully restored smiles almost instantly, and dentists will experience greater efficiency.
Digital Smiles: When patients ask what their smile will look like, it's always been the dentist trying to explain the process instead of being able to show it. Now, with imaging technology, an implant dentist will be able to communicate and show how a person's smile will be affected by dental implants. Not only will this help to ease the minds of patients, but it will also improve a dentist's credibility and expertise, leading the patient to return for a future visit.
Digital Collaboration: While some dentists have made it possible to have dental implants created in-house, most require the impressions or images to be sent to a dental laboratory. With digital planning software such as the CAMLOG implant system, dentists and lab technicians can work more efficiently and effectively. From surgical techniques to recommendations for ideal implant placement, this will save time and money.
No matter the field or type of technology, you can expect changes to occur almost daily. There's no stopping what is to come, and the only way to ensure patients receive safe, effective, and fast treatment is to keep up with the changing landscape of dentistry. Dental implants have come a long way from the days of seashells and stone, but what is to come is not only exciting but encouraging.
About the Practice
At Flenniken Family Dentistry, we know the difference dental implants can make for a person's smile. Our team of accomplished doctors are proud to offer this innovative and unique solution to replace missing teeth and restore incomplete smiles. Offering a variety of benefits, one of which includes a longer-lasting restoration, you can enjoy your new smile for decades, if not a lifetime. To learn more about this superior tooth replacement solution, visit our website or call (717) 249-7777.