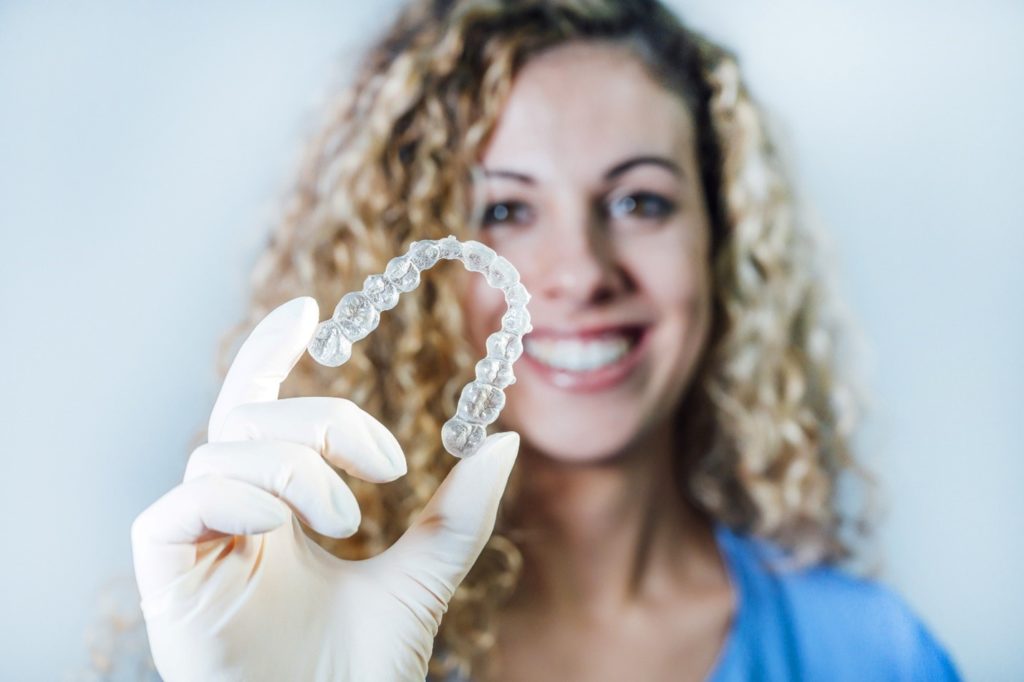 When Invisalign was introduced in the late 1990s, the teeth-straightening industry was forever changed. In a fraction of the time, their innovative clear aligners effectively guided teeth into the desired location while simultaneously providing patients with virtually undetectable treatment. So, it's not surprising that Invisalign has helped over 5 million people achieve their dream smile. However, patients need to be aware that their timeline can be extended if the trays are not worn properly. If your teeth aren't where they should be in this stage of your Invisalign treatment, then read on for four tips!
Tip #1: Use Invisalign Chewies
Invisalign's clear aligners are custom-made to seamlessly fit along the contours of your teeth and gums. However, if you notice a gap between the trays and your teeth, then they may not be "tracking" your teeth properly. Unfortunately, this can seriously delay your treatment if steps aren't immediately taken to correct this issue. The good news is that Invisalign chewies can help "seat" your aligners into the proper position. By simply biting down on the flexible, soft material after placing your trays into your mouth, you can ensure that they fit properly over your teeth and keep your progress on track.
Tip #2: Wear Your Aligners for At Least 22 Hours a Day
Thanks to Invisalign, long gone are the days of brushing around metal brackets and pesky wires. In fact, patients can remove their aligners while completing their dental care routine to easily keep their oral hygiene in tip-top shape throughout treatment! However, many patients get in the habit of forgetting to put them back in or misplacing them altogether. To ensure that your treatment timeline isn't prolonged, make sure to wear your trays for at least 22 out of the 24 hours of the day.
Tip #3: Ask Your Dentist About "Backtracking"
If you haven't been wearing your aligners properly or your teeth are not moving quickly enough, your dentist may recommend "backtracking." By swapping out your current aligners for a previous pair, your dental team can give your teeth some extra time to move into the proper position. This may set your treatment back a bit, but it will ensure that you get the safe, long-lasting results you deserve.
Tip #4: Talk to Your Dentist About an Invisalign Treatment Revision
At your first consultation, your dentist will take records of your teeth to create a custom treatment plan. However, if your teeth are not moving quickly enough or are not progressing in line with your Invisalign strategy, then your dentist will make a revision. Depending on the severity, they may provide you with new aligners or use Invisalign attachments to move your teeth into the desired location.
Understandably, many patients are disheartened when their treatment timeline is extended. Fortunately, you can use the above four tips to get back on track to achieving your dream smile!
About the Practice
At Flenniken Family Dentistry, high-quality service, a knowledgeable staff, and a patient-centered approach to care come together for a truly exceptional dental experience. Led by Dr. Neil Flenniken and Dr. Suzan Rismani-Flenniken, each member of their skilled team uses their clinical skill and genuine passion for dentistry to help their patients achieve strong, healthy, beautiful smiles. If you would like to speak with their team about straightening your smile with Invisalign, don't hesitate to visit their website or give them a call at 717-249-7777.