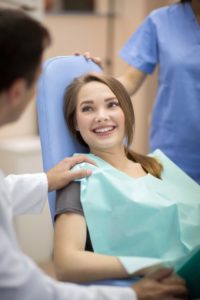 Every time you visit the dentist, you have a unique opportunity that many patients don't even consider. Sure, you're just there to get your routine cleaning and confirm no cavities are present, but what's stopping you from speaking to a licensed professional on ways to improve your oral health? What's stopping you from asking your dentist if what you're doing at home is good enough for the long-term?
To help you get started, here are a few questions worth asking your dentist and hygienist.
How Can I Improve My Oral Health?
Even if you have no cavities or early signs of gum disease, it's always worth asking your hygienist what the best ways are to practice oral care. Considering that the last time you were taught how to brush and floss was many years ago, your hygienist is more likely aware of the latest techniques recommended by dentists. For example, brushing in circles is considered to be a more effective way of brushing, rather than back and forth.
Are My Medications Up to Date?
This question may apply more to older patients, but it can just as easily matter for younger patients as well. The more your dentist knows about your overall health, the better care they'll be able to provide. Luckily, if you forget to mention any new medications you're taking, chances are they'll ask you first. This is because dental practices are paying more and more attention to overall health, not just oral health.
What Should I Tell My General Doctor?
Speaking of overall health, your oral health can have a great influence on it. Gum disease is known to be a risk factor for heart issues later in life, which is another reason why your dentist takes it so seriously.
Of course, the relationship is truly a two-way street. If you learn from your doctor that you have an autoimmune disease or that you're pregnant, you're at higher risk if you develop gum disease. Therefore, your dentist needs to be aware.
What is This Strange Pain/Sensitivity/Odor in My Mouth?
Many patients are often shy during dental visits, even when they know that something is wrong. Instead of keeping it to yourself, ask your dentist about any sensitivity, pain, or chronic bad breath you're experiencing. It's their job to determine the cause and help you build a treatment plan for it.
When Can I Book My Next Appointment?
You'll likely be asked if you want to schedule another appointment before you leave, but it's also a great way to take your leave from the office in general. You'll be given a reminder card and usually a call or text later to help you remember.
Your hygienist and dentist want to help you improve your oral hygiene as well as keep your oral health in check. The next time you visit for your scheduled appointment, remember these questions in advance!
About the Author
Dr. Neil Flenniken earned his Doctor of Dental Surgery degree from Howard University. He's also a Fellow of the Academy of General Dentistry and a graduate of the Las Vegas Institute for Advanced Dental Studies. To learn more about his dental expertise or practice, contact him through his website.