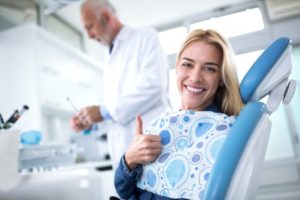 Many people are familiar with the idea of cosmetic dentistry as a way to improve the appearance of their smile. Sometimes, though, before a cosmetic procedure can be done, your dentist has to heal structural flaws within your teeth. That's where restorative dentistry comes in. If you've never heard of it, then you've come to the right place. Let's talk about the differences between the two.
What Is Restorative Dentistry?
Restorative dentistry refers to any procedures that your dentist does to keep your teeth and gums functional and healthy. These treatments include placing dental implants, fillings, and dentures. Unlike cosmetic dentistry, restorative dentistry does not require any specialization. While restorative treatments are first and foremost concerned with keeping the smile healthy, they can also improve the look of your smile at the same time.
What Problems Can Restorative Dentistry Fix?
The human mouth is a complex environment, and lots of problems can arise if you aren't proactive about your oral health. This is why your dentist will work their hardest to ensure that any possible problems are dealt with early on so that treatment is as easy as possible. The most common problems that restorative dentistry can correct include:
Cavities that are repaired with fillings
Missing teeth that are replaced with dental implants, dentures, or bridges
Broken teeth that are strengthened with crowns
What Is Cosmetic Dentistry?
While restorative dentistry is mostly about maintaining your oral health, cosmetic dentistry is concerned with improving the way your teeth and gums look. Your dentist will always put the health of your mouth first, but once that has been squared away, then together you can focus on achieving your most beautiful smile.
What Are Some of the Most Popular Cosmetic Dentistry Procedures?
People choose to improve the aesthetics of their smile for various reasons, like yellowed or chipped teeth. Here are some of the methods your cosmetic dentist may use to beautify your grin:
Teeth Whitening
You may have tried store-bought kits to peel away stains from your teeth, but to no avail. Thankfully, your dentist offers a bleaching gel several times more potent than what you can get over the counter.
Cosmetic Bonding
If you have a minor dental flaw such as a chip, crack, or stubborn stain, cosmetic bonding may be right for you. Your dentist will apply a composite resin to your tooth in layers until it's the perfect shape, size, and color.
Veneers
Veneers are super-thin coverings made of strong dental porcelain. They can be adhered to the front surfaces of any problem teeth to conceal virtually any imperfection.
If you're curious as to whether cosmetic or restorative dentistry would be more beneficial to your smile, simply ask your dentist the next time you see them. Some treatments, such as dental crowns, can actually blend restorative and cosmetic dentistry into one!
About the Author
Dr. Neil Flenniken has over 17 years of experience as an implant and cosmetic dentist. He is a Fellow of the Academy of General Dentistry and an Associate Fellow of the American Academy of Implant Dentistry. His practice in Carlisle, PA offers several restorative and cosmetic treatments to help you get the healthy, gorgeous smile you deserve. To learn more, visit Dr. Flenniken's website.