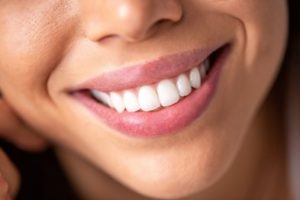 If your goal is to achieve a gorgeous smile, you have quite a few options. Depending on your dental flaws and needs, either veneers or Lumineers could be the right choice. But how do you decide? Keep reading to learn the differences between these treatments and what factors can help you make the right choice for your smile.
Veneers
Veneers can transform crooked, overcrowded teeth into a bright, symmetric smile in 2 to 3 visits. They are shells of medical-grade porcelain designed specifically to fit each individual tooth. During your first visit, your dentist will remove up to 0.7 mm of enamel, take impressions of your prepped teeth and place temporary veneers until your permanent set is ready. At your second visit, your dentist will place your newly designed veneers on your teeth using a composite resin. The last step is shaping and polishing them until they look and fit perfectly. If your enamel is worn down, veneers are a great way to protect your teeth from sensitivity. Because of the many shades offered, veneers can look very natural. Their bright, glossy finish provides the appearance of perfect teeth.
Lumineers
Lumineers are similar to veneers, but they are made from Cerinate, a ceramic material, rather than porcelain. They are about as thin as contact lenses and are placed over your teeth to correct your smile. Unlike veneers, there is no prep work needed to place them onto your teeth. Lumineers require a fair amount of enamel to be properly adhere to your dental surfaces. This treatment may only require two visits.
Choosing the Right Treatment for Your Needs
Stained or discolored teeth, cracks or chips, and crooked, misaligned or misshapen teeth can all be corrected with both veneers and Lumineers. But while they can both treat similar issues, they have a few differences. Lumineers are more translucent, so severe stains or broken teeth could easily show through. Veneers are opaque, so they are able to mask or treat these flaws. Another difference is the materials they are crafted from. Because veneers are designed from non-porous porcelain, they are more stain-resistant than Lumineers. You can make Lumineers more stain-resistant, but they will need to be thicker than usual, which can cause them to feel bulky.
Veneers and Lumineers are both very capable of correcting your smile and boosting your confidence. If you're not sure which treatment is best for you, your cosmetic dentist can help.
About the Practice
Drs. Neil Flenniken and Suzan Rismani-Flenniken are committed to providing patients with top-quality dental care in a comfortable environment. Flenniken Family Dentistry offers patient-focused treatments for all ages. The combination of skills, technology and techniques possessed by their team of 5 dentists allows them to ensure that patients receive dental care that exceeds expectations. If you are ready to have the beautiful smile you've always wanted, visit the website or contact the office at (717) 249-7777 and schedule your appointment today!