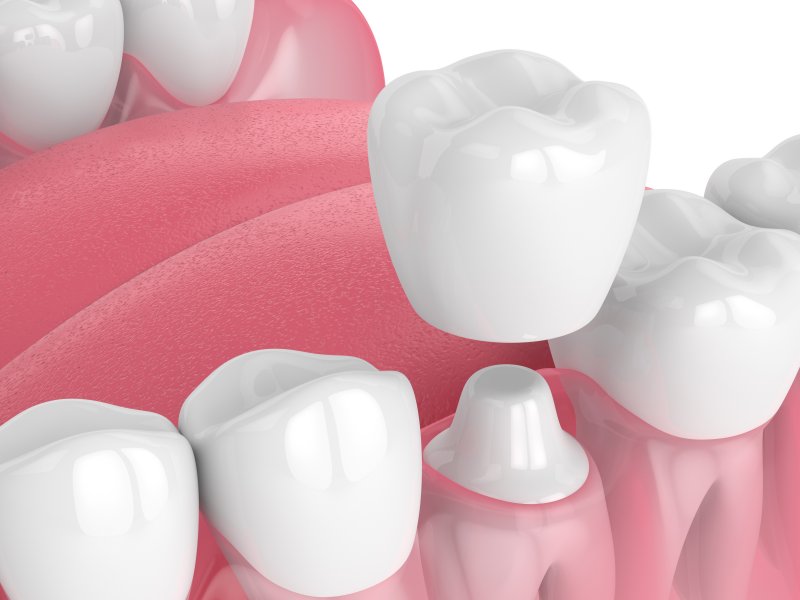 So, let's say you've noticed an issue with one of your tooth restorations. In particular, there's a black line around your dental crown. Should you be worried that it's a sign of an oral health problem? Not really — the black line is likely a cosmetic problem caused by your crown's materials. That said, you can have it fixed by switching to a metal-free restoration. If that piques your interest, your Carlisle dentist is here to tell you more. Read on to learn why some crowns develop black lines and how a new, porcelain one will help.
Why's a Black Line Around Your Dental Crown?
If you're dealing with a black line, chances are you have a porcelain-fused-to-metal (PFM) crown. The latter is an older kind of restoration that uses metal alongside ceramic. Apparently, their metallic substructure helps them last longer.
Unfortunately, PFM crowns tend to show their metal parts. When they do, they distort light and create the appearance of an unsightly black line. This result, in turn, makes your tooth look unattractive and distracting. After all, natural teeth don't have this type of stark discoloration.
Given this issue, most dentists today don't use PFM crowns. In fact, many believe these "dental caps" rely on outdated technology.
How Your Dentist Can Fix It
To fix a black line, your dentist can replace your old PFM crown with a newer, all-porcelain one.
You see, the latter crowns don't use any metal in their structure. Instead, they're porcelain (or ceramic) from top to bottom. Consequently, they match your natural tooth color and don't develop black lines. In other words, they produce lifelike teeth that effectively hide dental damage.
You'd get other benefits when switching from PFM to all-porcelain too. For one, the newer crowns are more resistant to food stains. They can also last 15-20 years with good oral hygiene and dental checkups.
You got your original crown to solve a tooth problem. Don't let it create a new one in its wake. Therefore, talk with your local dentist to see if a crown switch can take care of your pesky black line.
About the Practice
Flenniken Family Dentistry is based in Carlisle, PA. The practice strives to give patients top-quality care as led by Drs. Neil Flenniken and Suzan Rismani-Flenniken. To that end, it offers various preventive, cosmetic, and restorative dental treatments. These services use the latest dental technology so that you can trust their results. For more information or to book an appointment, you can reach them on their website or by phone at (717)-249-7777.