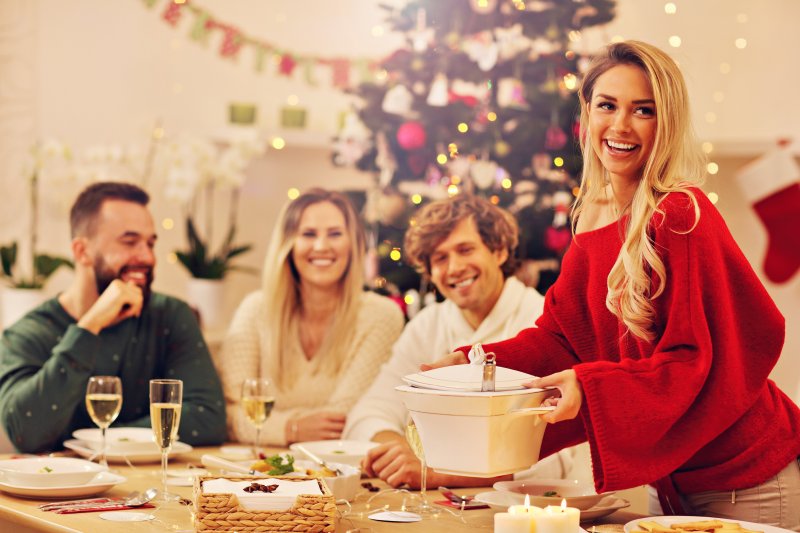 It's your favorite time of the year. You love the lights, caroling, last-minute shopping and the gatherings. But your dentist says during the holiday season, your oral health should not be overlooked. One reason is that you're likely to be more liberal about what you eat and drink, which could lead to some oral health challenges. Learn 5 simple but effective tips to prevent any holiday oral health emergencies or the development of cavities.
Tip #1 – Have Fun in Moderation
While you're not expected to deny yourself all the wonderous holiday delights, it's a good idea to set limits on your consumption of desserts, starches and candy. The common detrimental ingredient that the aforementioned share is sugar, which happens to be the most preferred food of bacteria.
By setting limits on the amount of sugar-rich foods you'll eat and the time span within which you'll consume them, you can prevent excessive bacteria growth.
Tip #2 – Keep a Toothbrush and Floss Handy
One of the most effective ways of preventing cavity development is to practice excellent oral hygiene, the roots of which are brushing and flossing your teeth. The combination of the two practices will help to agitate leftover debris and probe the tight spaces between your teeth to remove harmful plaque and food particles.
Tip #3 – Drink Water
An even simpler way to fight bacteria growth is to drinkwater after eating a meal. By bathing your mouth, you can help to wash away any remaining food that could latch on your teeth and cause decay.
Tip #4 – Chew Sugar-Free Gum
If you're unable to brush or floss your teeth within 60 minutes of eating a meal, then one of the easier ways to provide some temporary protection is to chew sugar-free gum. The chewing action helps to stimulate your natural saliva production, which bathes your teeth and aids in removing leftover residue.
Tip #5 – Increase Your Protein Intake
A way to control your sugar cravings during the holidays is to eat foods that are higher in protein like nuts, cheese, turkey and chicken. Drinking milk will also help to satiate your hunger and fortify your oral health.
By implementing these tips, you can fully enjoy the holiday season and worry less about having to face challenges like toothaches, cavities or lasting stains.
Another way to avoid any unwanted setbacks is to visit your local dentist for preventive care.
Now, with a game plan for protecting your mouth, teeth and gums, it's time to prepare for some holiday season fun!
About the Author
Dr. Neil Flenniken is a graduate of the prestigious Howard University where he earned his DDS degree. He combines nearly two decades of experience and an ever-burning desire to learn more to help his patients enjoy the best in dental health. Dr. Flenniken also provides holiday preventive care at Flenniken Family Dentistry, and he can be reached for more information through his website.